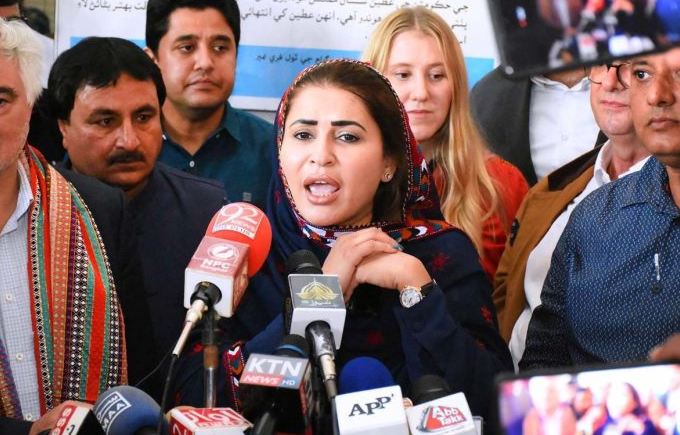 HYDERABAD, Feb 25 (DNA): Federal Minister for Poverty Alleviation and Social Safety Shazia Marri has blamed former Prime Minister and Chairman Pakistan Tehreek-e-Insaf (PTI) Imran Khan for the prevailing economic conditions, saying the incumbent government has tried to save the country from default.
Talking to the media at District Headquarters Hospital in Sanghar on Saturday, Marri said Khan used to tell lies to the people when he was the PM and that his same politics of lies continued at present.
Marri, who is also Chairperson Benazir Income Support Program (BISP), recalled that when the Pakistan Peoples Party (PPP) formed the federal government in 2008 the world was witnessing an economic meltdown. However, she added, through initiatives like BISP, the PPP's government ensured that the marginalized class of the country received the government's financial support.
She told that after the flood in 2022, an amount of over Rs.70 billion was released on the instructions of PM Shahbaz Sharif to help the flood-affected people. "In order to deal with the prevailing challenges, all political parties including Khan's PTI, will have to sit together to mutually find out agreed solutions," she observed.
The minister lamented that despite offering sacrifices of 80,000 lives of the common citizens, the security forces Pakistan still had to face the menace of terrorism. Thanks to the flawed policies of the Khan government, she added.
Commenting on the ongoing protest movement of the PTI, Marri said the court arrest protests were another drama of that party. "On one hand they are giving voluntary arrests and on another, the same people are seeking bail from the courts," she exclaimed, adding that the people had understood the political demagogy of Khan.
The minister said that the BISP was helping the poor people in a transparent way through its programs which had won global recognition.
Earlier, Shazia Marri inaugurated Benazir Bhutto Nashonuma Center at Civil Hospital Sanghar.
Speaking on the occasion, the minister said the Center would provide nutritional supplements to mothers of newborns.
She informed that some 402 Centers of the Program had been opened across the country. "Through this program, we aim to make the newborn children and their mothers physically and mentally healthy," she told.
The minister said the PPP's Sindh government was trying to provide better health facilities to the public. In that regard, she added, a Center of National Institute of Cardiovascular Diseases (NICVD) would be opened in Sanghar district
soon. She apprised that she would also hand over ambulances for the government hospital in Achro Thar.