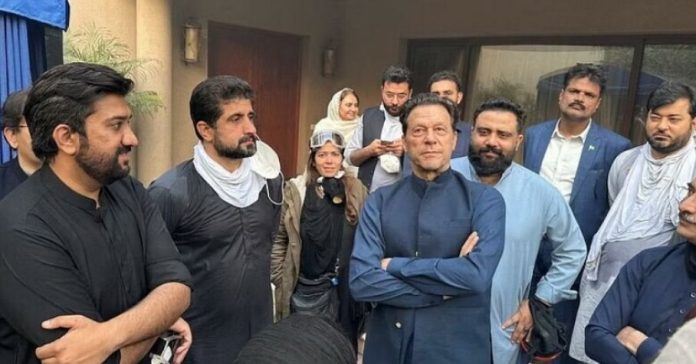 Lahore, MAR 17: PTI Chairman Imran Khan has planned to go to the Lahore High Court (LHC) on Friday and provide assurance that he was ready to appear before the Islamabad sessions court — which has issued non-bailable arrest warrants for the former premier — on March 18.
"Imran Khan will come to LHC himself and assure the judge that he is ready to go to the Islamabad court," PTI leader Fawad Chaudhry told media persons today, adding that "an undertaking has also been given in this regard".
Key developments so far:
Fawad Chaudhry says Imran to arrive in LHC to assure in-person appearance in Islamabad sessions court on March 18
LHC to hear Imran's pleas for protective bail in 9 cases
LHC extends bar on police action at Zaman Park till 3pm today
PTI supporters stand guard outside party chairman's residence to prevent possible arrest
Imran challenges trial court verdict in IHC, petition to be taken up shorty
PTI chief says he will appear before Islamabad sessions court on March 18
Rana Sanaullah says the government will follow due legal process regarding Imran's arrest
Embroiled in legal complexities, Imran has been resisting arrest in the Toshakhana case and is holed up inside his Zaman Park residence surrounded by hundreds of supporters, who have fought "pitched battles" with the police and Rangers over the past few days.
The Islamabad police, backed up by their Punjab Police compatriots and the Rangers, arrived at the ex-premier's house on Tuesday to execute non-bailable arrest warrants issued by an Islamabad sessions court for him in the Toshakhana reference — in which he has skipped several hearings.
However, the law enforcement agencies retreated on Wednesday evening, saying that the operation had been paused during the ongoing Pakistan Super League (PSL). Separately, the LHC had also intervened and postponed the operation.
On Thursday, an Islamabad sessions court — where PTI had gone for the suspension of Imran's arrest warrants — upheld the warrants that it issued, observing that the PTI chief had "challenged the dignity and writ of the state".
It also maintained its order to arrest the ex-premier and present him in court by March 18.
Speaking to media persons outside the LHC, Chaudhry demanded that the PTI chief should be given a "safe passage" to appear in the Islamabad sessions court.
He clarified that the arrest warrant issued for the ex-premier was merely to ensure his presence in court. "Imran Khan's arrest is not the motive of the warrant. Only ensuring his presence is."
Separately, PTI's Musarrat Cheema said that the PTI chief will leave for the high court at 3pm. Ahead of Imran's departure to court, Dawn.com's correspondent in Lahore said that Canal road — which will be used by the PTI chief to go to LHC — was open. Containers have been placed at the Sundar Das road, but traffic was allowed to go one way.