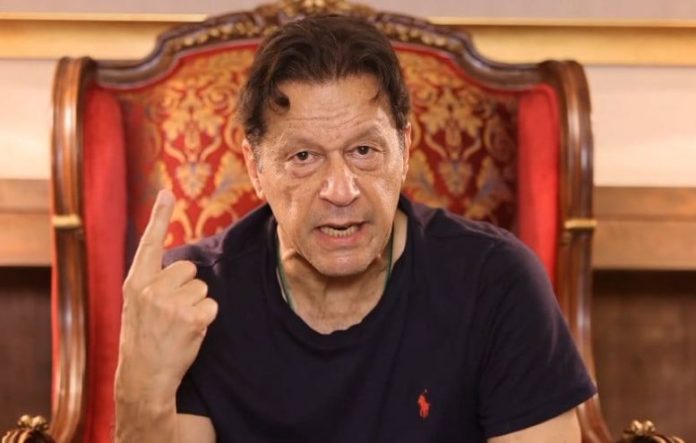 Reveals Bajwa wanted to establish friendship with India
Says Qureshi, Elahi tasked to establish contacts with other parties
LAHORE: Pakistan Tehreek-e-Insaf (PTI) Chairman Imran Khan on Saturday warned that his supporters would take to the streets if elections were not held in the provinces within the stipulated time frame of 90 days.
In a meeting with reporters and social media influencers here at his Zaman Park residence, the PTI Chairman stated that if polls were not held within the stipulated timeframe, the country would be left without a Constitution.
The press delegation included Khurram Malik, Khawaja Ramzan, Rana Faran Yameen, Jawad Hasan, Anas Zafar, Tahir Ahmed, and noted analyst Chaudhry Ghulam Hussain.
He said that the caretaker governments in the provinces should have played a neutral role but unfortunately, they were not fulfilling their responsibilities.
PTI Chairman raised a question as under which law the government of crooks would restore the provincial assemblies in KP and Punjab if the polls did not take place within the constitutional mandated timeframe.
Imran Khan revealed that Qamar Javed Bajwa pressurized him to establish friendly relations with India, which was why matters took a turn for the worse, adding that Bajwa was not a man of principles.
The PTI Chairman suggested that accountability against Gen Bajwa's actions should come from within the army, adding that President Arif Alvi was not playing any role to establish contacts between the military establishment and the PTI.
Imran said that PTI Vice Chairman Shah Mahmood Qureshi and PTI President Pervez Elahi had been tasked with establishing contacts with other parties and politicians, adding that there were no restrictions on any party member meeting other political figures.
Lashing out at the PDM for targeting the Supreme Court for taking suo motu notice of delay on elections to the Punjab and Khyber-Pakhtunkhwa assemblies, he said that they agreed with similar proceedings of the court to restore provincial assemblies in the past when it benefitted them.
He expressed concerns over the crackdown against the party. He said they have been completely blocked on the media and now attempts are being made to trying to control social media.
Khan lashed out at the Mohsin Raza Naqvi-led interim Punjab government and remarked that there was no reason for the attack on his house in his absence, and saying that he was going to pursue the matter in the courts against Punjab's interim CM Naqvi, Punjab Inspector General of Police (IGP) Usman Anwar, and CCPO Lahore Bilal Saddique Kamyana who, he called them' as criminals.