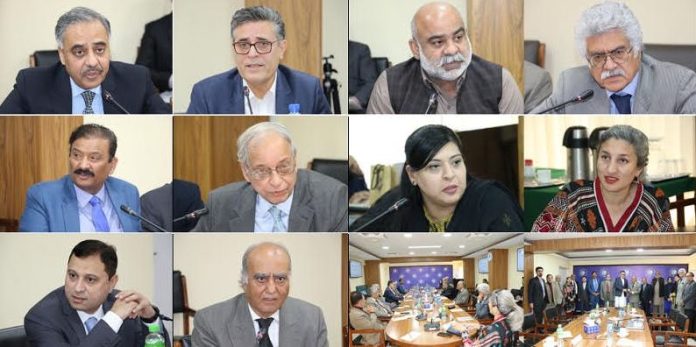 Arms Control & Disarmament Centre (ACDC)
In-House Session on "Latest Developments on Issues of Arms Control & Disarmament" with Ambassador Khalil Hashmi, Permanent Representative of Pakistan to the United Nations and other International Organisations in Geneva
Geneva, MAR 10 /DNA/ – The Arms Control & Disarmament Centre (ACDC) at the Institute of Strategic Studies (ISSI) organised an In-House Session on "Latest Developments on Issues of Arms Control & Disarmament" with Ambassador Khalil Hashmi, Permanent Representative of Pakistan to the United Nations and other International Organisations in Geneva.
The discussion was chaired by Ambassador Sohail Mahmood, Director General, ISSI. The participants included: Ambassador Ali Sarwar Naqvi, Executive Director, Centre for International Strategic Studies (CISS); Ambassador Zamir Akram, Pakistan's former Permanent Representative to the UN in Geneva; Ambassador Shah M Jamal; Brigadier Haroon Rashid, Director General (SECDIV), Ministry of Foreign Affairs (MOFA); Professor Dr. Zafar Nawaz Jaspal, Director, School of Politics and International Relations (SPIR), Quaid-i- Azam University (QAU); Major General (Retd) Ausaf Ali; Dr. Pervez Butt, former Chairman Pakistan Atomic Energy Commission (PAEC); Dr. Salma Malik, Assistant Professor, Quaid-i-Azam University (QAU); Ms. Rubina Waseem, Assistant Professor, National Defence University (NDU); Commodore Baber Bilal Haider, Director, National Institute of Maritime Affairs (NIMA); and Major General (Retd) Naseer Ali Khan. Malik Qasim Mustafa, Director ACDC, made the introductory remarks.
DG Ambassador Sohail Mahmood, in his welcome remarks, highlighted the obtaining global environment marked by revival of traditional geopolitics, great-power competition, military conflicts, existential threat posed by Climate Change, and an evidently weakening commitment to multilateralism. He noted that these dynamics had profound implications for international cooperation, including on issues related to arms control and disarmament.
Ambassador Khalil Hashmi apprised the participants of recent developments on the issues of arms control and disarmament, especially with reference to the discourse in the Conference on Disarmament (CD). He shared his assessment of the state of play on important agenda-points in the CD and Pakistan's approach.
Ambassador Hashmi's insightful presentation was followed by an engaging interactive session with the participants.
Ambassador Khalid Mahmood, Chairman BoG of ISSI, made concluding remarks.