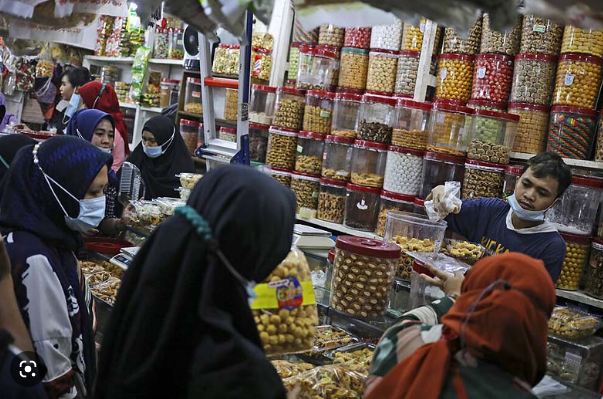 JAKARTA, Apr 28 (Xinhua/APP): Indonesia is getting ready for a surge in COVID-19 cases, particularly for new Omicron subvariant XBB.1.16, after a high mobility of people during the Eid al-Fitr holiday.
The country's Health Ministry said on Thursday that people were advised to wear masks for activities indoors and in public places, particularly those who found themselves with flu, and follow health protocols again. Previously in May last year, the government lifted the face mask mandate in open spaces.
"By wearing masks and do healthy lifestyle, as well as get vaccinated, we hope to avoid the possibility of significant increases in COVID-19 cases," Health Ministry spokesman Mohammad Syahril told reporters.
The ministry confirmed 1,879 new active COVID-19 cases as of Thursday, bringing the tally of infections to 6,769,005. The number has continued to rise in the last two weeks.
During the Eid holiday, which fell on April 19-25, Indonesia recorded the largest annual traveling in its history, with no less than 123 million people across the country going to their hometowns or their relatives' houses, based on data from Indonesia's Transportation Ministry.
The number significantly increased from the Eid holiday last year in May, which saw around 85 million travelers.
Separately, data from the country's Tourism Ministry has shown that there were 540 million moves from people across Indonesia to and from various tourist destinations, with Bali resort island recording the highest number of visitors.
Some areas of Indonesia's big cities have reported increases in COVID-19 cases.
Indonesia's COVID-19 Task Force for East Java province, for instance, revealed that some hospitals had reported a surge in COVID-19 infections since the Eid holiday.
"Usually, the daily increase for COVID-19 infections in the province was around 50 cases, but recently it has become more than 100 cases," spokesman of the COVID-19 Task Force for East Java province, Makhyan Jibril, said on Thursday as quoted by a local news portal.
As of April 24, there had been 697 active cases in the province, with a positivity rate reaching 10.32 percent.
Bengkulu province in Sumatra Island confirmed on Thursday nine new COVID-19 active cases allegedly carried by travelers.
"We've found nine new active cases this week. This is the first time for this province to find COVID-19 again after a long time of seeing no case," the head of Bengkulu Health Agency, Herwan Antoni, said as reported by local media.
A number of hospitals across Indonesia have also braced up to receive more COVID-19 patients after the Eid holiday.
State-owned Dr. Seotomo General Hospital in Surabaya, East Java had prepared 290 high-care and low-care treatment rooms and 37 intensive care rooms only for COVID-19 patients, the director of the hospital, Joni Wahyuhadi, told local media on Friday.