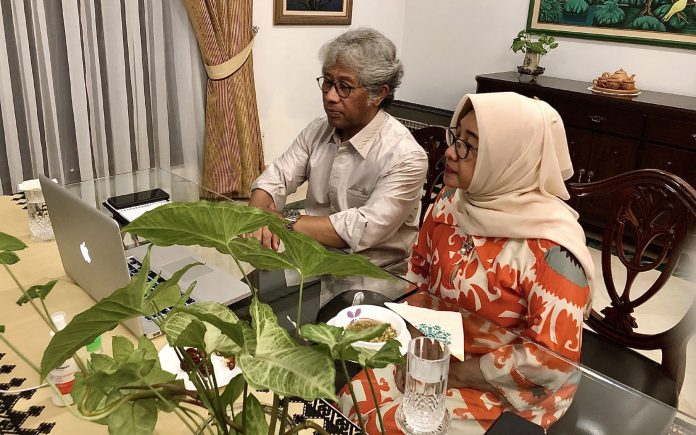 Islamabad – In every difficultywe find conveniencebecause every crisis provides an even rather greater opportunityif we innovatively look for the way out and striveto overcome the challenges.
Thesepositive,heart warming and spirit lifting remarks were made by the Ambassador of the Republic of Indonesia H.E. Iwan S. Amri, as the host ofanIftar organized the virtual wayon the first day of Ramadan (25/4).
In the midst of the corona virus pandemic in Pakistan and social distancing, the Indonesian Embassy switched to Virtual Iftaras an alternative to continue its annual tradition to break fast togetheras a coherent community.
The virtual fast-breaking was attended by the Indonesian Ambassador IwanAmri, Mrs. Rita Amri, Embassy's officials and over 230 Indonesian students of the International Islamic University Islamabad (IIUI)who attended the grand virtual event from their boarding campuses and residences.
Welcoming the holy month, AmbassadorIwan S. Amrisaid thatRamadan is a great mercy of Allahto reset our lives but this year Ramadan was anunparalleled and perhaps once in a lifetime experience. The experience that teaches us that difficulties should encourage us to be more creativeand breaking our fast together in virtual way was an exampl, he said.
On the occasion, Director Student Affairs IIUI, Dr.IbrarAnveron behalf of the IIUIlauded the initiative of the Indonesian Embassy in Islamabadand admired the creativity of the Indonesian students at their campus. Showing unanimity of views and acknowledging theAmbassador, Dr.Anversaid in his remarks that "God will facilitate one's life as long as he strives for the benefit of humanity."
During the program, the students were also provided information about the latest trends in the corona outbreak by Defence Attacheof the Embassy, Colonel Kav.DodyTaufik with the view to further enhance self protection and awareness.
In the spirit of social solidarity, staff from the Indonesian Embassy in Islamabad also raised funds for the Community Ramadan activities. On the occasion, Firdaus Alfin Hudaya, Chair of the Indonesian Student Association (PPMI) of Pakistan appreciated the Ambassador and conveyed the feelings of the students by saying that the students long for the fasting arrangement back home, but even in Islamabad they feel like at home because they have parents at the Indonesian Embassy who are caring and attentive to them"
As per the arrangement, Indonesian students independently prepare iftarat the campus dormitory kitchen. To havetraditional Indonesian Ramadhan atmosphere in their campus, they prepare the typical Indonesian Iftar menu such as rendang, sotoBetawi and grilled chicken, and banana compote.
====