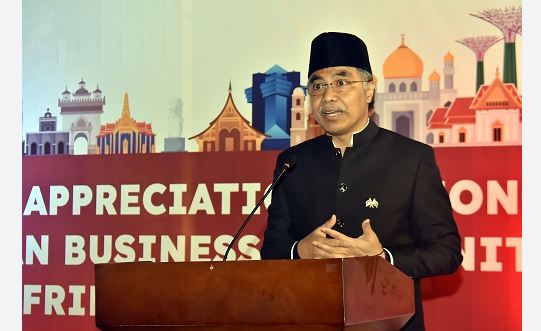 Indonesia has a strong desire to enhance its economic relationship with Pakistan: Ambassador Tugio
ISLAMABAD, FEB 22 /DNA/ – "There is a lot of untapped potential from Pakistan to contribute to the world market", said the Indonesian Ambassador. Adam M. Tugio during interactive session.
Indonesia has a strong desire to enhance its economic relationship with Pakistan noting its geo-economics strategy and its geographic location as gateway to land-locked countries in Central Asia and beyond, said Ambassador Tugio.
The envoy showed pie charts of economic complexity indicating industries where Pakistan manufactures have strong comparative advantage and export to fill global market, and corresponding market in Indonesia where Indonesia purchase them from many sources. He made reference to Pakistani products such as medical equipment, leathers, garments, and textile that could become important trade commodities not only to Indonesia market but also globally.
The envoy emphasized the importance of building people-to-people connections between the nations, and he encouraged students in Pakistan to make use of scholarships being offered by Indonesian government and many universities in Indonesia.
Tugio welcomed the initiative of COPAIR and other think tanks in Pakistan to have collaboration with Indonesia's counterparts. "Such cooperation altogether will give contribution to strengthen cultural bridge between the two of biggest Muslim population countries in the world", added Tugio.
Ambassador Tugio further said that Indonesia and Pakistan can work together to promote traditional herbal medicines which have great potential among youth and millennia in the world for they believe in could boost immunity systems and simultaneously avoid side effects of synthetic medicines.
He also exposed the potential of the halal cosmetics and herbal medicine industry which is still widely open. "Pakistan can utilize the current Indonesia–Pakistan Preferential Trade Agreement (IP-PTA) for exploring 640 million of ASEAN markets and encouraged think thank and business communities to work together in identifying untapped potentials of traded goods for making more broader trade in goods agreement", added Tugio.=DNA
===============