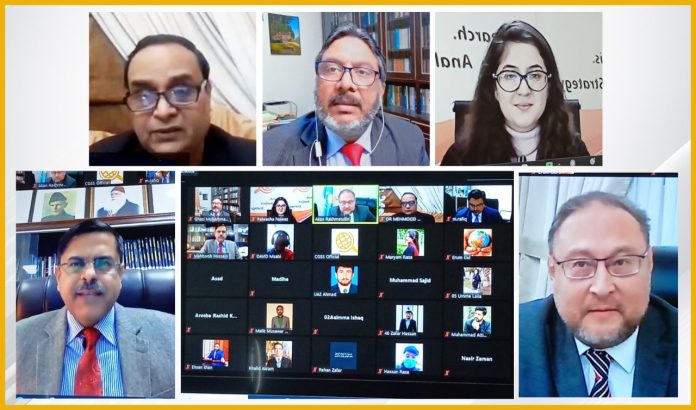 Experts were of the view that Kazakhstan is emerging as the most powerful country with a lot of opportunities in the future
DNA
ISLAMABAD: Center for Global & Strategic Studies (CGSS), Islamabad organized an Online Conference on, "Kazakhstan's Parliamentary Election 2021: A Way Forward for Further Strengthening Democracy & Political Setup".
The conference aimed to understand the Kazakhstan government's attempts to strengthen fair democratic and political values in the country to give a neutral and unbiased perspective on how such steps will be effective for free and fair parliamentary elections in the country on 10th January 2021.
The conference was commenced with the speech of Dr. Mahboob Hussain, Chairman, Department of History & Pakistan Studies, University of Punjab, Lahore. He discussed Kazakhstan Parliamentary Election 2021: A Giant Step Towards Liberal and Functional Democracy. He mentioned the historical and cultural importance of Central Asia dating back to ancient times. Hundreds of poets, writers, and Sufis migrated from central Asia to South Asia, thereby contributing significantly to the literature, history, science, and culture of South Asia.
Dr. Mahboob highlighted that the upcoming elections are an important step towards the political institutionalization setup in the country. Several reforms have been introduced for the upcoming elections in terms of representation and constitutional requirements. It is a very important step in terms of institution building, especially the political institutionalization building. In the upcoming parliamentary elections, the determining factor will be the new paradigm of the relation between the state and the society. The presidential elections of June 2019, was the first sign that new political players and new political forces are getting their share in the political landscape of the country.
He further mentioned that it is the science of history that politically stable societies gain economic prosperity. Kazakhstan is one of the most economically and socially stable country of Central Asia as a result of the constitutional reforms, the election commission of Kazakhstan has implemented effective reforms including, voter registration reforms and securing representation of women and youth. If we compare the upcoming elections with the previous elections, there are several key differences. There are new players in the political process, increased transparency, and the enhanced right to speak and participate during joint discussions, meetings of standees committees, etc.
Dr. Ghazi M. Abdullah, Assistant Professor, Department of History, University of the Punjab, Lahore discussed blessings of Political system in Kazakhstan. He highlighted that this topic is very important viz a viz the current political situation in Kazakhstan. It is a country that is economically, politically, historically, geographically and in the foreign policy paradigm is one of the most important countries in Central Asia. The upcoming elections will have a long-term impact on the regional politics and economies of neighboring countries and their relation with China and Russia as well.
Furthermore, historically its relation with Russia and the adjoining territories has always been important. It is witnessed that Kazakhstan is emerging as the most powerful country with a lot of opportunities in the future. In recent reforms, the trade relation of local traders and mercantile associations has enhanced resulting in economic development.
He also mentioned that the most important element in the Kazakhstan political system is the visionary leadership and role of Nursultan Nazarbayev in introducing productive reforms in Kazakhstan, despite all western propaganda and reservations. Keeping in view the present scenario, his role and contribution cannot be kept aside, as it has proven to be a guiding star for everyone and the most important pillar of Kazakhstan's system.
Dr. Mehmood Ul Hassan Khan, Member Board of Experts, CGSS & Regional Geopolitical Analyst discussed Vital actors of preparedness of free and fair elections in Kazakhstan in 2021. He mentioned that all actors in Kazakhstan are fully prepared for upcoming parliamentary elections according to international standards and protocols. All preparations for free, fair, and impartial elections have been institutionalized in the country, including peoples friendly policies, equal participation, and structural reforms in all sectors.
He highlighted that there has been an upward trend in the political system of Kazakhstan, the percentage of youth and women has been further increased since the last elections.
Kazakhstan has ensured 30% participation of women and youth, this shows the education, high literacy rate, and the empowerment transition in the Republic of Kazakhstan. Women have been playing a vital role in the socio-economic development of Kazakhstan, it has been witnessed that important roles have been given to women. This is a practical manifestation of diversified political reforms in the country.
Dr. Mehmood highlighted that 5 political parties will be participating in the upcoming elections, all these parties are free to participate and nominate their representatives depending on their popularity, education, and experience of the candidates. Attractive promises have been made by the candidates including, zero corruption, accountability, formation of small and medium enterprises (SMEs), microfinancing, and agriculture.
His Excellency Akan Rakhmetullin, Ambassador of the Republic of Kazakhstan to the Islamic Republic of Pakistan discussed Kazakhstan's Presidential Political reforms and its important development in the country. He thanked all panelists for their in-depth analysis of Kazakhstan's political system and parliamentary elections. Highlighting the importance of enhanced representation of women and youth he mentioned that according to the Kazakhstan constitution people aged 25 can be part of the Majlis, but before these elections, it was not practically manifestoed. All the reforms made by the President are now being practically implemented.
The elections being held in 2021 will hold a uniqueness in that they are held amidst the COVID-19 pandemic, and the safety of our citizens is the number one priority for the government. The entire process will be conducted keeping in view the international SOPs to ensure the safety of citizens especially the elderly population of Kazakhstan. Democracy cannot be constructed overnight. In Kazakhstan, we are very sensitive about developing our political system to be more open and transparent. His Excellency Akan Rakhmetullin thanked CGSS for organizing this Conference and stated that we have to keep speeding our friendship and brotherhood.
The conference was moderated by Ms. Palwasha Nawaz, Project Executive, CGSS, and was attended by 50 participants including students and members of academia. It was also viewed by 100 people on social media networks.