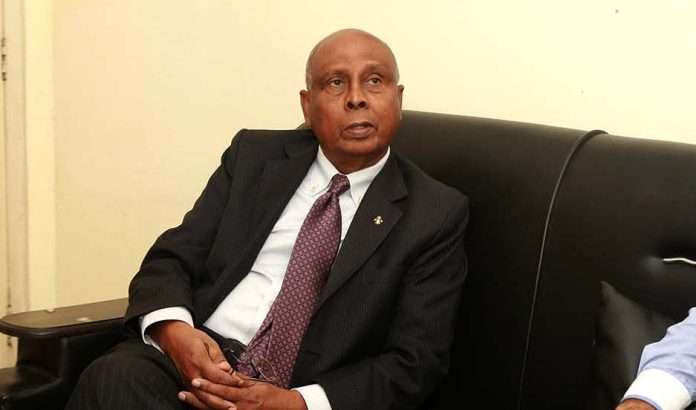 ISLAMABAD, DEC 11 (DNA) –Ambassador of Malidves Ahmed Saleem has said improved intra-regional connectivity through road, air, rail and sea, is absolutely necessary for effective regional integration.

It will also promote people-to-people contact, economic relations and tourism. The Charter objective of promoting welfare and wellbeing of the peoples of the region can be accomplished through enhanced intra-regional trade, which is about 5% of cumulative trade of the Member States, with the outside world.
It is hoped that relevant SAARC mechanisms will look into this for improve intra-regional volume of trade.
Ambassador Saleem expressed these views while speaking on the occasion of a seminar arranged by SAARC Chambe of Commerce and Industry.
Ambassador Saleem who happens to be the former SAARC Secretary General also added, SAARC, which was launched on 8 December 1985, is the manifestation of the collective will of our Member States to promote regional cooperation and integration in order to promote the welfare of the peoples of South Asia and to improve their quality of life.
He said he was happy to note that the three windows of the SAARC Development Fund, SAARC Specialized Bodies and SAARC Regional Centers are actively pursuing their mandates through holding regular substantive activities and programs.
Despite many challenges, the importance of this organization has in fact grown by every passing year.
Looking at the past, one can draw immense satisfaction from SAARC's achievements over the past 34 years.
Occasions like this, indeed, are a welcome opportunity to evaluate what SAARC has really accomplished as a regional organization as well as the challenges faced in the past three decades and more.
As we mark another year since its establishment, we need to remind ourselves of the noble principles of the association and redouble our efforts to strengthen our resolve and focus on how, as a region, we can improve the lives of our peoples through sustainable development, the ambassador added.
All of us in SAARC are eagerly waiting to find out when the 19th Summit will take place here in Islamabad.
We all know that holding of SAARC Summits, which is the highest body of SAARC, provides renewed impetus to the SAARC process. Last Summit was held in Nepal in November 2014, five years ago. Sadly, this has been the longest period SAARC has gone without a Summit.
He said, the 19thSummit was to be held in Islamabad in November 2016, but was unfortunately, postponed. It is hoped consensus among the Member States will be evolved soon to hold the Summit as early aspossible.
"SAARC has definitely played a major role in the lives of the people in this region and that is why I have always felt that SAARC is the best thing to have happened to this region. I sincerely believe that SAARC is the only vehicle that can promote not only economic cooperation but also maintain peace and harmony in the region".
The ambassador said sincerity and commitment on the part of all of us were a sine qua non to overcome the hurdles that face us all and fulfilling our dream of making our region a peaceful and prosperous one, given the huge potential in the region. =DNA
================