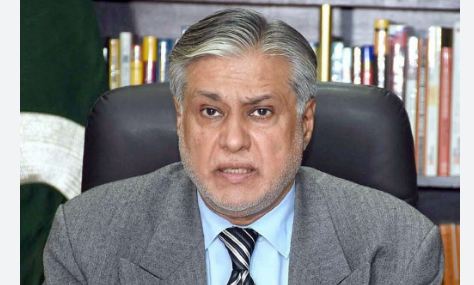 ISLAMABAD, Jan 27 (DNA): Federal Finance Minister Ishaq Dar on Friday came out and responded to financial figures quoted by former prime minister and Pakistan Tehreek-e-Insaf (PTI) Chairman Imran Khan, stating that cherry-picked figures were being used to present an unrealistic picture of the economy.
Challenging Imran to a live debate between economic teams of both sides
so that the truth becomes clear.
Holding Imran Khan squarely responsible for the current economic crisis,
Dar said that the opposition had unanimously resolved to sacrifice their
political capital to save the country.
However, he said that Imran prioritized his self and politics above the
sanctity of state. "You damaged the country's reputation," Dar stated.
You have admitted today that you were brought into power on a stolen
election, Dar said, adding that instead of building on the economy,
Imran opted to focus on political victimization. "We are trying to fix
your mistakes."
The federal finance minister that when they took over the economy, they
helped the growth rate rise from we took the country at 4.5% and by the
time they left, it had grown to 6.10%. "In your first year, you took it
down to 3.7% and then negative before coming to 6%," he said.
Dar said that it was Imran who had agreed tough conditions with the
International Monetary Fund (IMF) not the incumbent government, due to
which the incumbent government is being arm twisted into taking tough
decisions.
"We grew the Gross Domestic Product (GDP) from $244 billon in 2013 to
$356 billion when we left, an increase of $112 billion," he said, "But
during your tenure, it grew only $26b," he said.
When we left, the stock market capitalization was $100 billion and was
rated among the best performing market. But by the time Imran left, the
stock market's capitalization fell to $25 billion.
On circular debt, Dar said that when they came, the circular debt was at
Rs503 billion and when they left it was Rs1.158 trillion.
But when Imran left, the circular debt increased to Rs2.4 trillion.
"Gather all your financial wizards and prove your numbers, because what
you have quoted does stand up to scrutiny," he said.
Dar slammed Imran for opting to do politics at a time when the country
was facing the worst floods. "We made Pakistan the 24th economy of the
world and the projection was that by 2030, Pakistan would have entered
the G-20. What you should have done after coming to power was to
consolidate the economy and build it further, instead you drove it to
47th economy of the world," he said. "It is the impact of that which we
are seeing today."