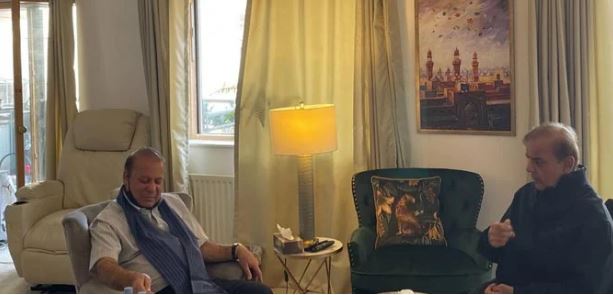 LONDON: PML-N leader Ishaq Dar will assume charge as the finance minister on Tuesday, a decision taken during Prime Minister Shehbaz Sharif's meeting with party supremo Nawaz Sharif in London on Saturday.
Earlier today, Minister for Interior Rana Sanaullah confirmed that Dar will return to Pakistan next week.
Dar, himself, had said yesterday that he will take oath as a Senator immediately after his return. The former finance minister said that he would will perform whatever duty is assigned to him by Nawaz and Shehbaz.
PM Shehbaz, along with Minister for Information Marriyum Aurangzeb reached London after attending the 77th United Nations General Assembly (UNGA) in New York a day earlier and is scheduled to leave for Pakistan on Sunday.
PM Shehbaz's meeting with Nawaz. The two leaders were to discuss the ongoing situation in the country and measures taken by the sitting coalition government.
Moreover, the strategy to deal with PTI Chief Imran Khan's call for a long march, and ending PTI's government in Punjab were also expected to be part of the discussion.
It was further learnt that the final decision regarding the elections, whether they should be conducted earlier or not, will also likely be taken.
The PML-N leaders were also expected to devise a strategy for expediting verdicts in the cases registered against Imran Khan.
Prior to his meeting with Nawaz, PM Shehbaz was to also chair an online meeting regarding the current flood situation in the country.