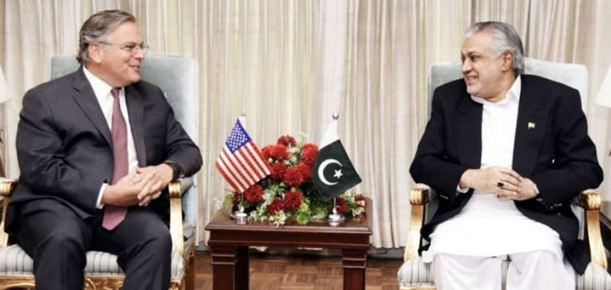 ISLAMABAD: Ambassador of the United States (US) to Pakistan Donald Blome called on Finance Minister Ishaq Dar and discussed matters of mutual interest and enhancing the existing bilateral relations between both countries.
According to a statement, Ishaq Dar welcomed Donald Blome and shared deep-rooted historic and durable bilateral relations with the United States on economic and trade fronts.
He shared economic policies and priorities of the government to address the challenging economic environment and set the economy to stability and growth.
Dar informed Ambassador Blome about the government's pragmatic plans related to revenues and expenditures for meeting its national as well as international financial obligations.
The finance minister shared various economic avenues in which both countries can further deepen their economic relations.
He also informed the envoy about the ongoing IMF programme and assured the dedication of the government to complete the programme.
Speaking on the occasion, Ambassador Donald Blome underscored that both countries enjoy good relations and expressed confidence in the policies and programmes of the government for economic sustainability and socio-economic uplift of the masses.
He extended his support to further promote bilateral economic, investment and trade relations between both countries.
Ishaq Dar thanked the US Ambassador and reiterated the desire of the government to further deepen bilateral trade and investment ties with the USA.
Read More: Ishaq Dar says 'Pakistan will not default with or without IMF'
The meeting came as the International Monetary Fund (IMF) still showing a lack of confidence and asking Islamabad to 'do more' to unlock loan programme despite the assurances from friendly countries about external funds to Pakistan.
Pakistan's economy is in turmoil amid financial woes and the delay in an agreement with the International Monetary Fund (IMF) that would release much-needed funding crucial to avoid the risk of default.
The current loan programme with the IMF will end on June 30, 2023, and Pakistan is now 'considering' a new IMF programme on renewed conditions.
The fund is delaying the ninth review with Islamabad which has 'forced' Pakistan to get rid of the current loan programme and generate more funds from friendly countries, sources said.
Read more: IMF wants Pakistan to arrange $8bn for successful bailout review
Sources further say during the tenure of Imran Khan's government, 'tough' demands of the IMF were also agreed upon for the loan programme.
The incumbent government imposed taxes of Rs170 billion through the money budget in February as per the demands agreed upon by Imran's government. Prices of gas and electricity were increased up to 40pc and the rupee further depreciated as the IMF was assured to bring the dollar exchange rate as per open market.