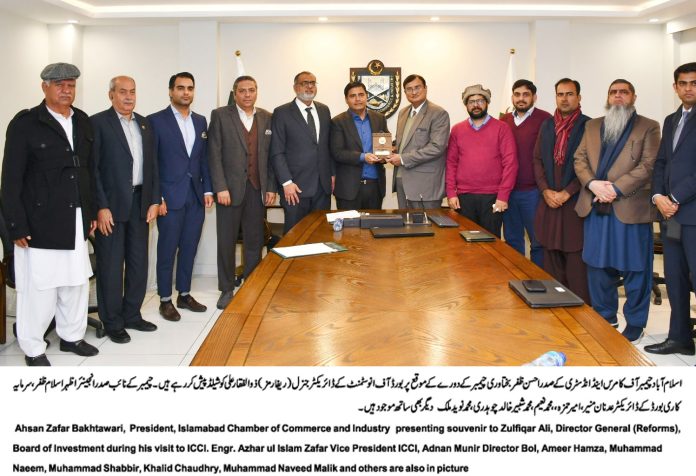 ICCI President says that the new environmental laws are creating more problems
DNA
Islamabad ( ) Ahsan Zafar Bakhtawari, President, Islamabad Chamber of Commerce and Industry said that the prevailing complicated business regulations are a barrier to promote business and investment activities in Pakistan and stressed that the Board of Investment should speed up its process of regulations reforms to promote ease of doing business in the country. He said this while talking to a delegation of Board of Investment (BoI) that visited ICCI led by Zulfiqar Ali, Director General (Reforms) and briefed the business community about the Pakistan Regulatory Modernization Initiative to facilitate the business community.
ICCI President said that the new environmental laws are creating more problems for the private sector as their compliance is not possible, especially for old businesses and industries and stressed that BoI should work in consultation with stakeholders to reform and simplify them.
Engr. Muhammad Azhar ul Islam Zafar, Vice President ICCI said that BoI should take a focal person from every chamber of commerce and associations for its Pakistan Regulatory Modernization Initiative (PRMI) to bring concrete reforms in the business regulations and a timeline should be set up for this project.
Zulfiqar Ali, Director General (Reforms) and Adnan Munir Director (Regulatory Modernization) BoI gave a detailed presentation on PRMI to the business community. The said that BoI is establishing a Pakistan Business Portal to provide one stop shop facility to businesses for licensing, registration and no-objection certificates through an online system linked to all relevant government departments. This project is likely to be completed by 2027. They said that BoI has received over 230 proposals for reforms in regulations out of which 115 reforms have been completed while more are process. They said that under PRMI activities, mapping of all business regulations is being done to analyze and eliminate unnecessary regulations and simplify and automate remaining regulations in order to facilitate the business community.
Ameer Hamza, Maqsood Tabish, Muhammad Shabbir, Muhammad Naeem Executive Members ICCI, Khalid Chaudhry and Muhammad Naveed Malik former Senior Vice Presidents ICCI also gave many useful proposals for making regulations more business friendly.