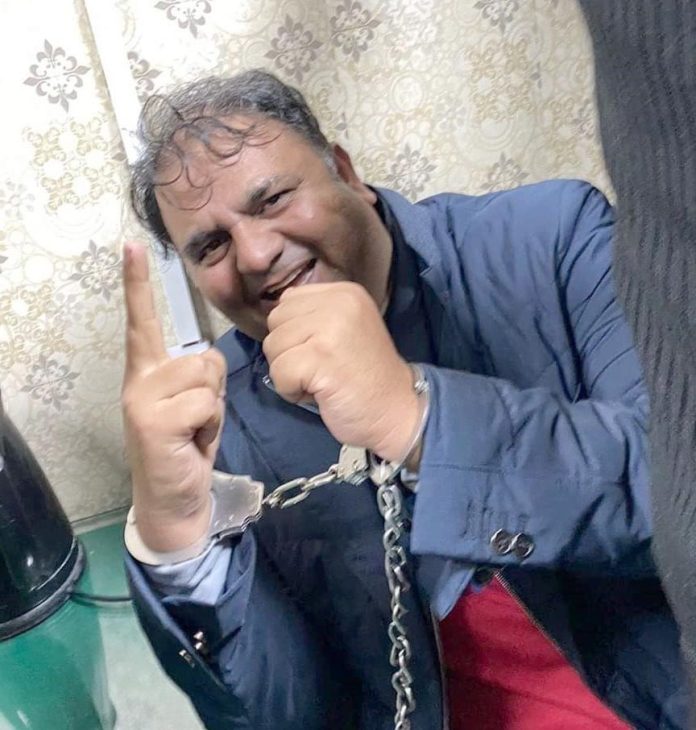 ISLAMABAD: A district and sessions court in Islamabad Wednesday night approved a two-day physical remand of Pakistan Tehreek-e-Insaf (PTI) Senior Vice President Fawad Chaudhry in a sedition case.
The Islamabad Police had sought an eight-day physical remand of the PTI leader, however, the court did not approve their request and asked the authorities to present the PTI leader on January 27.
The police — during the time that the verdict was reserved — also took the PTI senior leader to the Pakistan Institute of Medical Sciences (PIMS), where he underwent a medical checkup and was declared fit.
The former federal minister has vehemently denied all charges and demanded the case's dismissal as it is "fraud and the FIR is a sham".
Fawad's lawyers told the court that the charges were politically motivated and since the PTI leader made the statements in Lahore, his case should have been registered in the city and not Islamabad.
The PTI leader was arrested from his Lahore residence earlier today after he publicly "threatened" the members of the Election Commission of Pakistan (ECP) and their families in a media talk a day earlier.
After obtaining transitional remand from a court in Punjab's capital, the police shifted the ex-information minister to Islamabad, where he was presented before the H-8 court.
Hours after his arrest, Fawad's cousin, Nabeel Shehzad, moved the Lahore High Court (LHC) seeking the "recovery" of the PTI leader. After several breaks, the court finally told the lawyer to approach the Islamabad High Court (IHC) as it was the relevant forum in this case.
'Election commission targetted'
At the outset of the hearing, the election commission's lawyer said that the ECP is a "constitutional institution" and noted that it has the authority to hold polls.
"The election commission has been targetted under a well-thought-out plan," the ECP's counsel said, with the duty judge asking Fawad to not intervene in the middle — as the PTI leader taking jibes at the institution.
The counsel added that the aim behind Fawad's press conference was to incite the general public, and he had also threatened the commission's family members.
"The aim of the speech was to spread hatred against the election commission. We also have electronic evidence against Fawad Chaudhry," the lawyer claimed.
He added that the PTI leader has also accepted that he had accepted that he made the threats. "So, isn't it our right to decide something against Fawad Chaudhry?"
The lawyer added that the PTI also ran a campaign against the commission and argued that the police should be allowed to look into the statements of the former minister.