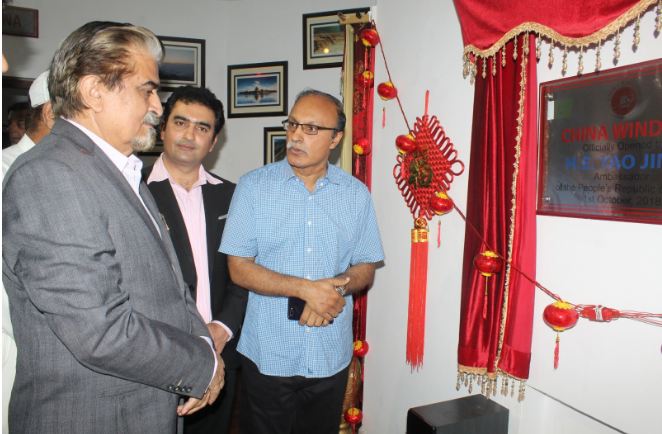 PESHAWAR, AUG 26 /DNA/ – Caretaker Federal Minister of Culture and National Heritage Jamal Shah has said that CPEC is a plan for economic development of Pakistan, enemies want to sabotage this plan but their evil intentions will never be allowed to succeed. He expressed these views on the occasion of his visit to China Window, a Chinese cultural center established in Peshawar.
Khyber Pakhtunkhwa's internationally renowned actors Javed Babar, Ishrat Abbas, Ahmed Sajjad, Khalid Khattak, Zulfiqar Qureshi, Sohail Asad, Wasima Younis, Miss Saeeda, Hameedullah Khan and personalities from different walks of life were also present on this occasion. Jamal Shah visited various galleries of China Window , signed the friendship wall and recorded his comments in the guest book.
Speaking to the media on this occasion, he said that those who oppose CPEC do not want Pakistan's economic development and a previous government did not allow work on CPEC for many years, but the caretaker prime minister has given clear instructions that the pace of work on CPEC should be accelerated so that the already ongoing projects can be completed and the investors from all over the world came to invest in Pakistan.
Jamal Shah said that while the examples of friendship between the two countries are given all over the world, Pakistan and China are also very close to each other culturally. Opportunities are being provided to learn about the traditions and culture of both countries. Referring to the recently made film, he said that this film made with the cooperation of China will soon be released in Pakistan and China. He said that there are about 80,000 cinemas in China, while the film industry in Pakistan has died, for the revival of which China can play an important role.
"The Pakistani film industry needs substantial support; and assistance from China holds significant value, especially given China's emergence as the largest film market globally. Federal Minister of Culture and Nataional Heritage Jamal Shah said that the Chinese cultural center China Window in Peshawar is playing an important role in Pakistan-China friendship across the province including Peshawar.
China Window has done significant services in the promotion of Chinese culture in a very short period of time and they will try to make Silk Route Cultural Center Quetta and China Window should jointly advance Pak-China friendship and play its role alongside the government in this regard. Earlier, Administrator of China Window Amjad Aziz Malik informed the Federal Minister of Culture about the details of China Window and told him.
That the number of visitors to the China Window has increased from one hundred and fifteen thousand, while the China Window has now become a center of academic, literary, cultural and social events.