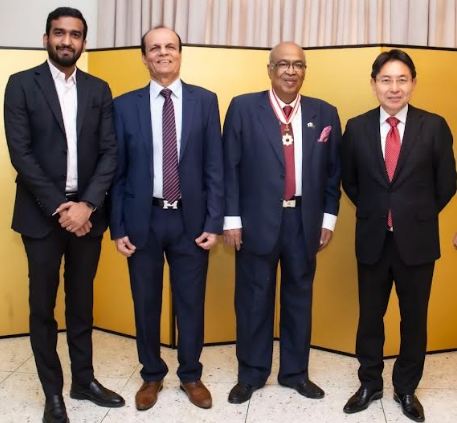 KARACHI: The Government of Japan has conferred highest civilian award 'The Order of the Rising Sun Gold Rays with Neck Ribbon' to Kalim Farooqui, a prominent businessman, president Pakistan Japan Business Forum(PJBF), for promoting bilateral trade between Japan and Pakistan, and attracting Japanese investors to invest in Pakistan.
H.E Odagiri Toshio, Consul General of Japan in Karachi, conferred the award upon Kalim Farooqui in a simple but dignified ceremony at his residence.
The Consul General of Japan, while terming Pakistan an important friend of Japan, said that mutual trade between the two countries is gradually gaining momentum and Japan's investment in Pakistan has also increased.
Japanese CG, while extending his congratulations, lauded the efforts of Mr. Farooqui and commended him on his ongoing efforts in further relations between Japan & Pakistan.
Kalim Farooqi, President Pakistan Japan Business Forum, while expressing gratitude to the Government of Japan, concluding the event, extended a note of thanks to the Consul-General for being bestowed with the honour.
He aims to continue working with the support of the Consulate General and Japanese companies to further strengthen the bilateral and cultural ties between Japan and Pakistan.
Kalim Farooqui is one of the founding members of the Pakistan Japan Business Forum (PJBF) & has served critical positions on the Forum for over 10 years now. He has additionally served as the Chairman of PJBF for 3 years, from 2020 to present.
From 2015 to 2018, Kalim Farooqui led a delegation consisting of Pakistani small & medium-sized enterprises on a visit to Japan & connected businesses from Japan and Pakistan by creating networking events such as B2B meetings.
In 2012, he published a book titled CONCORDIA on behalf of the Pakistan Embassy in Tokyo highlighting the 60 years of the establishment of diplomatic relations between Japan and Pakistan which was presented to all Japanese attending the celebration ceremony in Tokyo invited by the then Ambassador of Pakistan, H.E. Noor Muhammed Jadmani.
In September 2022, Farooqui also attended the Joint Government Business Dialogue held in Islamabad along with Commerce Minister Naveed Qamar, as one of the representatives from the Pakistani side.
Farooqui has made a significant contribution not only to the deepening of bilateral economic and trade relations but also to the strengthening of friendship between the two countries by promoting Japanese culture in Pakistan.
As an honorary patron of the Pakistan Japan Cultural Association, Sindh, he actively participates in the PJCA's cultural events and has consistently supported the Consulate General of Japan's cultural events in Karachi.
In addition to this, he is the Managing Director of Technology Links. Technology Links being a private limited company incorporated in 1989 in Pakistan. It exclusively represents several quality manufactures of High-tech equipment and sources them from various countries across the globe.