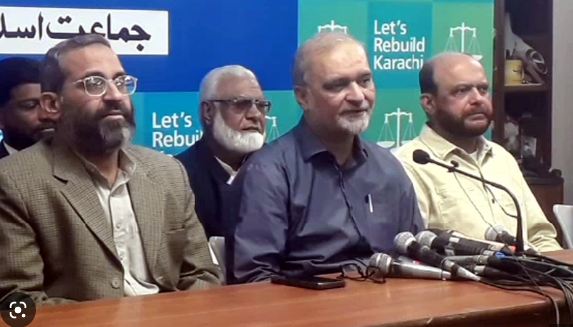 KARACHI, JAN 04 (DNA) — The Jamaat-e-Islami (JI) Karachi Ameer, Hafiz Naeem-ur-Rahman has announced to hold a sit-in outside Chief Minister House tomorrow (Thursday).
The JI chief yesterday had given an ultimatum of 24 hours to the Sindh government to clarify its position regarding the local government elections in Karachi and Hyderabad.
Addressing a press conference at Idara Noor-i-Haq, Hafiz Naeem-ur-Rahman said that his part would hold a peaceful protest outside Sindh CM House as it did not withdraw its letter to the Election Commission of Pakistan in which the PPP was seeking further delay in the polls.
He said that Sindh has a governor with criminal records. Ever since Kamran Tessori became the governor, the conspiracies have increased. He alleged that the PPP-led Sindh government was mulling over further postponing the polls after all the melodrama.
As many as 33 candidates have passed away before the second phase of local bodies elections in 16 districts of Karachi and Hyderabad divisions. According to the details provided by Election Commission of Pakistan (ECP), as many as 12 candidates of union council (UC) chairman and vice chairman have died since the time their nomination papers were submitted.
Similarly, 22 candidates who were running for district council, town committee, municipal committee and UC ward members seats also passed away. The polls in 45 constituencies will be held at a later date, according to the ECP.
Meanwhile, 704 of the 19,867 contestants vying for different seats have been elected unopposed in 16 districts of the Karachi and Hyderabad divisions. There are still speculations with regard to postponement of the local government polls in the metropolis for the seventh time as the Sindh government has written another letter to the Election Commission of Pakistan (ECP) recently.
The Muttahida Qaumi Movement Pakistan (MQM-P) had already written a letter to the ECP for amending delimitation for the LG polls. It is pertinent to mention here that the new phase of the Sindh LG polls are scheduled on January 15 in Karachi Division after its postponement for six times. = DNA