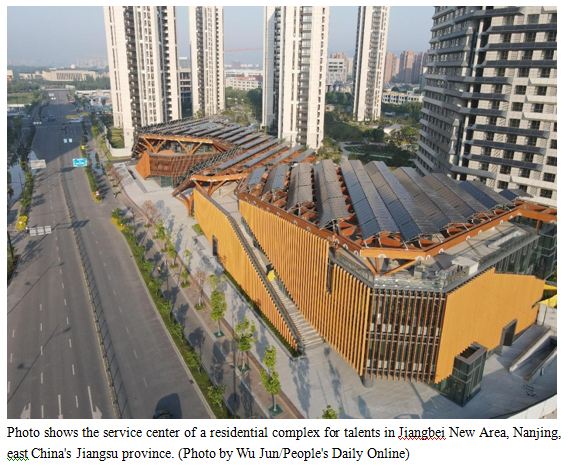 By Yao Xueqing, Bai Guangdi, People's Daily
Jiangsu province in east China has made ceaseless efforts to foster green production and promote green lifestyles over recent years, integrating a green philosophy into everything from architectures to transportation, and to production.
By the Yangtze River in the Jiangbei New Area of Nanjing, capital of Jiangsu province, there is a building that looks like a giant wooden house which covers 2,400 square meters. The wooden structure, which looks cozy and trendy, has a top covered by large numbers of solar panels. It's cool inside on hot summer days even without the air conditioning on.
The "wooden house" is the service center of a residential complex for talents working in the city. The biggest highlight of the structure is that it is self-sufficient in energy.
Zhu Kan, deputy director of the green architecture center of Nanjing Yangtze River Urban Architectural Design Co., Ltd., the designer of the "wooden house," told People's Daily that the structure features ultra-low energy consumption.
It was built with thermal-insulation wood materials and in the wall cavity, there are fire- and heat-resistant stone wool boards that keep the structure cool in the summer and warm in the winter, Zhu said.
According to estimation, energy demand of the service center is only about 70 percent of that of similar buildings, which means that the structure can save 316,000 kWh of electricity and 1,600 tons of water on an annual basis, equivalent to reducing 274.4 tons of carbon dioxide emissions.
Apart from saving energy, the service center is also a supplier of energy. The 864 solar panels which span 1,800 square meters on the top of the building make a micro grid that boasts a total installed capacity of 345 kW and an annual generation capacity of 270,000 kWh. The micro grid powers not only the building itself, but also the charging poles in the residential complex. The clean electricity generated by the facility each year is able to charge more than 5,000 electric vehicles.
"It's a prefabricated building, and the construction of it was like building blocks. Parts needed were fabricated in factories and then transported to the site for assembly," said Zhu, adding that it was efficient and reduced environmental pollution.
It is learned that Jiangsu province has built a batch of similar structures featuring ultra-low energy consumption. Constructed in green and low-carbon ways, they boast higher efficiency of energy utilization and lower carbon emissions.
At 8:00 am on a Monday, when traffic was the busiest of the day, Chen Taizhou, bus driver of Line 1 of Jiangsu's Wuxi, drove a bus from Wuxi's central bus station to the destination Yuantouzhu, a local scenic tourist region.
"It was all jammed in the peak hours a few years ago, and I had to wait at traffic lights at almost every crossroads. Passengers always complained about it," said Chen, referring to a 5-kilometer section that crosses 10 intersections in the downtown.
However, things have changed since last September. Chen found that he was seeing more green lights and less red ones when driving through the section, and the cycle length of red lights became shorter.
The change came from Wuxi's innovative attempt to promote green transportation and public transit with the Internet of Things (IoT) technology.
Chen's bus is powered by new energy and looks very tech-ish. On the top of it there are two antennas, which help realize precise positioning of the vehicle with the differential positioning technology. Besides, the bus is also equipped with a smart gateway that transmits real-time data of the vehicle, including speed, mileage and positioning information.
Three bus routes in the city now enjoy transit signal priority (TSP) at some 30 crossroads thanks to the application of the internet of vehicles, said an official with the municipal bureau of industry and information office of Wuxi.
According to the official, these buses now make 1.03 less stops during a single trip and their average waiting time at each crossroads has been reduced by 54 seconds, or 36.1 percent.
Apart from Wuxi, other cities in Jiangsu province also launched TSP services and green bus routes, including Suzhou and Suqian. With better experiences, green public transport is seeing more and more passengers.
In a factory of Globe Group in Changzhou, Jiangsu province, one of the leading Chinese manufacturers of new energy gardening machinery, solar panels were seen on the top of workshop buildings. Apart from the solar power facility, the factory also employs clean production techniques. It has established a resource recycling mechanism and is constantly optimizing the structure of energy consumption for better green development.
Senior vice president of the company Zhuang Jianqing told People's Daily that the company, using government subsidies, launched green transition for its production, building two unmanned workshops, updating 50 automated production lines and introducing 240 robots. Besides, it has also established a circulating water treatment system. Thanks to these efforts, the factory has expanded its capacity by four times while being environmentally friendly.
Over recent years, Jiangsu province has accelerated the green transition of traditional industries and increased its support for environmental protection, clean production and green service industries, building a batch of green high-tech factories featuring low energy consumption and low pollution.