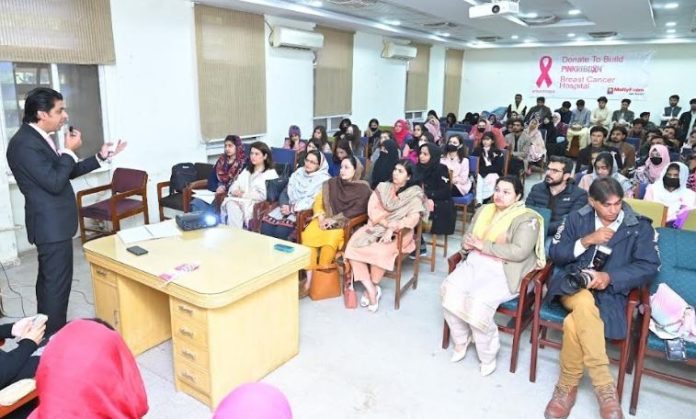 Rawalpindi, NOV 16 /DNA/ – Saqib Rafiq, President Rawalpindi Chamber of Commerce and Industry (RCCI) has said that joint efforts against the breast cancer would lead to saving lives of thousands of women in the country.
Speaking at an awareness session jointly organized by RCCI and Pink Ribbon at at Quaid-i-Azam School of Management Sciences Islamabad, he said the survival rate of breast cancer patients across the globe was about 95-98 per cent compared to 45pc in Pakistan due to late diagnosis.
A large number of students and faculty members participated in the awareness session. Chairperson Ms. Shadab Khan, Vice Chairperson Ms. Shamaila Shahzad and other RCCI Women members were also present in the session.
"One in every eight women in the country is at risk of breast cancer, besides one woman falls victim to the disease every 13 minutes," he said, adding that there was a need to shun taboos associated with breast cancer and encourage women to seek timely medical consultation.
RCCI chief acknowledging the important role of women in society, said the chamber had taken several key initiatives to ensure their empowerment, including setting up business incubation centres.
In order to address challenges pertaining to the well-being of women, the RCCI would continue to extend them support on health issues such as breast cancer, he said.
He also proposed installation of a mammogram machine at every teaching hospital to train medical graduates about breast cancer screening.