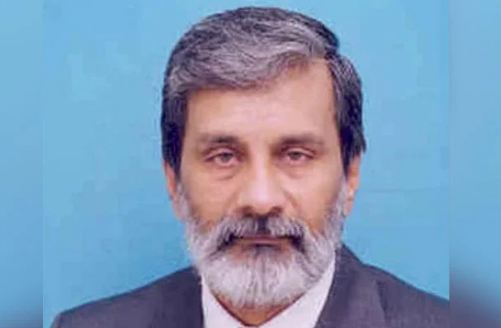 KARACHI, AUG 25 (DNA) — Caretaker Chief Minister Justice (retd) Maqbool Baqar presiding over a meeting of the Labour Department directed district administration Hyderabad to vacate illegal occupation of the flats constructed for labourers and ordered repair and renovation of labour flats at Gulshan-e-Maymar.
The meeting was attended by Minister Labour Omar Soomro, Advocate General Hassan Akbar, PSCM Raheem Shaikh, Advocate Shabir Shah, Chairman SRB Asif Memon, Secretary Labour Laeeq Memon, and other concerned officers.
The chief minister was told that the Workers Welfare Board (WWB) was responsible for the Development / Construction of Flats and Houses, Free of cost quality education to workers' children, Financial Aid to purchase Uniforms, Shoes, Books, and bags, Grants in Aid for marriage of worker's daughters, Post Matric Scholarships for workers' children, financial aid to Legal heirs of the Deceased worker.
The meeting was told that from 2018 to 2023 an amount of Rs1333.130 million have been disbursed as grant-in-aid for marriage to 13322 cases/workers. Rs244.456 million scholarships to 3175 students and Rs2160.625 death grants for 4360 cases.
To a question, the CM was told that the WWB has 11565 flats, 6257 houses, 5443 plots, 23 schools and colleges, kidney center Landi being run by SESSI, NICVD Hospital Sukkur, and 10 Vocational Training Centers.
The chief minister was told that the 128 labour flats were under occupation in Hyderabad Labour Colony. At this, the CM directed the deputy commissioner Hyderabad to vacate the flats and hand them over to the labour dept so that they could be allotted to the registered workers.
It was pointed out that some of the flats vacated from illegal occupation at Gulshan-e-Maymar needed repair and renovation. The CM directed Minister Law Omar Soomro to visit the falts with secretary labout and directed the labour dept to repair them at the earliest for allotment to the laborers. — DNA