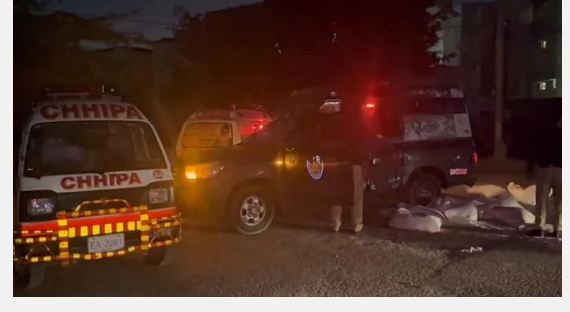 KARACHI: Law enforcement agencies (LEAs) Friday night cleared the five-story office of the city's police chief after nearly a four-hour operation — days after a deadly attack in Peshawar's Police Lines.
At least three militants blew themselves, while two were gunned down in the shootout, officials confirmed, as they swept the office situated on the main artery of Sharea Faisal.
Three people — including two police officers — also lost their lives, and 18 people — including Rangers personnel — were injured, officials confirmed to.
The attack began at 7:10pm, while police and Rangers personnel cleared the five-storey building in phases, finally sweeping the entire office by around 10:48pm. 
Police snipers took up positions near the station and all lights in the area were switched off.
A police officer, who did not want to be named, told that the attackers entered the office wearing police uniforms — a tactic similar to the Peshawar mosque suicide attack that claimed the lives of more than 80 people. 
Police officials said that armed suspects — whose total numbers are unknown at the moment — fired several rounds at the head office — located adjacent to the Sadar Police Station. Police sealed off traffic on the main thoroughfare through Karachi and heavy contingents of security forces, including Rangers and Pakistan Army's Special Service Group commandos, had arrived at the scene.