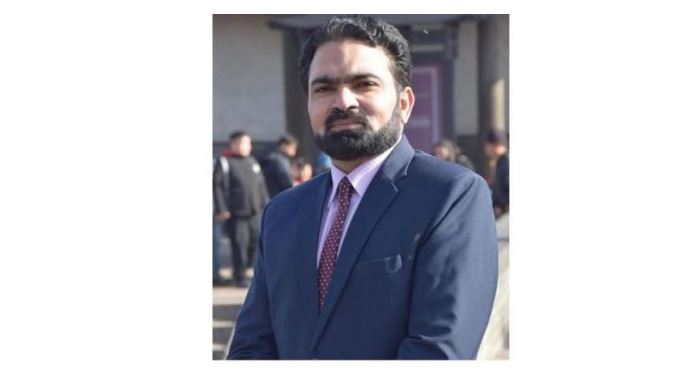 Abdul Rashid Shakir
While dusting off annals of partition of the Subcontinent some seven decades ago, one comes across a classic case of cunning connivance between the proponents of 'the mother of all parliaments' and the champions of 'the biggest democracy in the world'. I mean the crafty engineering of the Radcliffe Award in August 1947 in the first place, and subsequently the willful rather criminal denial of right to self-determination to the people of Indian Illegally Occupied Jammu & Kashmir (IIOJ&K) from 1948 onwards despite agreed upon by the United Nations in its resolutions on Kashmir.
Sir Cyril Radcliffe, joint chairman of the two Boundary Commissions mandated to partition Punjab and Bengal provinces of British India, was responsible for equitably dividing some 450,000 square kilometers of territory of these two regions inhabiting around 88 Million people.
However, nothing short of 'cunning connivance' comes to mind when history reveals that, despite its overwhelming Muslim majority, Gurdaspur in Punjab province was handed over to India by the Boundary Commission Award published on 17 August 1947. This move paved the way for subsequent Indian aggression and illegal annexation of IIOJ&K by sending its troops to the region.
Later on, when Kashmiris were right on their way to fighting back their homeland from the clutches of Indian armed forces, the United Nations Security Council brokered a ceasefire in 1948 to end the hostilities through its Resolution 47 and promised the people of Kashmir their just right to self-determination through an independent and fair plebiscite. But unfortunately, it has transpired into nothing else but 'unfulfilled dreams', despite the lapse of more than 70 fateful years.
It is saddening to note that India's Stubborn disregard for international commitments to give Kashmiris the right to self-determination has not been able to awaken the conscience of the world community yet, ostensibly out of a desire to tap India's huge market of more than 1.2 Billion. Very much cognisant of this Achilles' heel in the Western outlook, India is committing heinous crimes in IIOJ&K with impunity. Amnesty International, Human Rights Watch, and all other leading human rights organizations in the world have voiced serious concerns over depriving innocent Kashmiris of their fundamental rights and liberties.
More than 95,000 innocent Kashmiris have been martyred, thousands of Kashmiri women have become widows, and lots of Kashmiri children have been rendered orphans by inhumane acts of brutal Indian-occupied forces. The use of pellet guns, target killings, rape, murder, and enforced disappearances are common tools employed by the brutal Indian forces in IIOJ&K.
Quite recently, India committed a blatant constitutional aggression on 05 August 2019 when it annexed IIOJ&K as one of its union territories and tried to change its demography by abrogating Articles 370 and 35-A of its constitution, which had granted IIOJ&K special status or limited autonomy as a disputed region.
It is heart-rending to note that IIOJ&K is a potential flash point between Pakistan and India. Since independence in 1947, both countries have fought wars in 1947-48, 1965, 1971, and 1999, besides many armed skirmishes along the Line of Control (LoC) from time to time. The recent standoff between the two countries after the 2019 Pulwama attack makes it quite clear that even a minor misadventure by India along the Line of Control (LOC) can potentially burst into a full-scale war between the two nuclear-armed neighbors, capable of destabilizing rather than destroying the whole region.
Therefore. it is high time that India must honor its pledge of granting the right to self-determination to the people of Kashmir through a free and fair plebiscite as promised to them in the UN Security Council's Resolution 47 of 1948. UN bodies and international human rights organizations must exert their full influence on the Indian Government to stop extra-judicial killings and enforced disappearances of innocent Kashmiris in IIOJ&K. Moreover, the International community must play a decisive role in getting the United Nations resolutions on Kashmir implemented. It would not only fulfill the long-standing promises made to the people of Kashmir but would also lend peace and stability to the whole region.
Steadfast in its principled stance, Pakistan will continue its moral, political, and diplomatic support for the oppressed Kashmiri brethren. In this regard, we as a nation, observe the 5th of February each year since 1990 as Kashmir Solidarity Day to ensure the people of Kashmir our unswerving support for their just right to self-determination in line with the UN resolutions on Kashmir. Moreover, Pakistan would continue to highlight the sufferings of the Kashmiri people at all bilateral and multilateral international fora because Kashmiris and Pakistanis can not be separated. We salute their courage and perseverance and stand by them till the realization of their dreams. God willing, they will snatch freedom from the clutches of brutal Indian forces very soon.