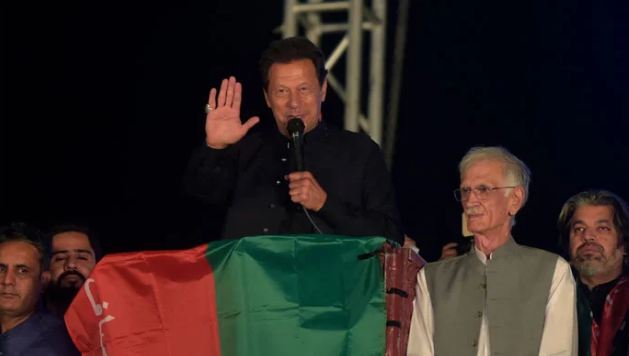 Says rivals want to spread fear, chaos to run away from polls
Zille Shah's violent death shows depths to which corrupt, ruthless ruling elite sunk: Khan
Urges Pakistan to take park in real Jihad to attain 'Hahqeeqi Azadi'
LAHORE: /DNA/ – Pakistan Tehreek-e-Insaf (PTI) Chairman Imran Khan lambasted the fascist government for brutally torturing and killing dedicated and ardent PTI worker Ali Bilal aka Zille Shah in custody and urged the nation to stand up against the criminal rulers and should be ready for all sacrifices in the holy war of 'real independence'.
In his address to the nation on Friday, PTI Chairman said that time was ripe to stand against the crooked rulers imposed on the nation through conspiracy. "Everyone should get ready to take part in jihad for real independence and we will not retreat come what may," he added.
Imran lambasted the government and Punjab police for resorting severe torture on PTI worker Ali Bilal, who received some 26 wounds on his body.
Imran Khan said that if the nation did dot stand up against the brutal killing of an innocent person like Zille Shah, then they had no future.
"When Man, God's greatest creation, falls, he descends below animals even. The ones who tortured Ali Bilal, our Zille Shah, to death are worse than animals. They have been indulging in custodial torture on Azam Swati, Shahbaz Gill and many political workers, overseen by a total psychopath," he added.
"What is happening in Pakistan may be with terrorists or traitors, but I have never seen such an incident in my life that a worker who has never fought with anyone in his life. He suffered a deep injury on his head, his liver and stomach, his delicate organs were tortured," he added.
Imran Khan stated that these psychopaths tortured Azam Swati just for a tweet against the super king in front of his grandchildren and handed over to unknown persons, adding that they were torturing him and telling him that the same thing would happen to Imran Khan.
PTI Chairman went to say that what was Arshad Sharif's fault, the whole nation knew that no one could buy him, so he did all this with a journalist like him.
Similarly, Imran Khan stated that the children of social media were picked up on a tweet, a parent said that their son was still not able to recover mentally, adding that they wanted to enslave everyone by spreading fear.
PTI Chairman went on to say that Zille Shah loved his country in a very special way. "His violent death through custodial torture shows the depths to which the corrupt, ruthless and cruel ruling elite has sunk," Khan stated.
Imran Khan vowed that said the PTI would raise the matter of the death of Ali Bilal, adding that he said the PTI would move the court against Punjab interim Chief Minister (CM) Mohsin Naqvi, Punjab Inspector General of Police (IGP) Dr Usman Anwar, and Lahore Capital City Police Officer (CCPO) Bilal Siddique Kamyana.
He said the country was going through a time worse than martial law, adding that an infidel society could survive but a cruel society could never be. "The LHC ordered the Pemra to revoke ban on the broadcasting of his speeches but it was not acted upon", he added. He questioned the powerful saying whose influence there was behind forcing Zille Shah's father to stave off the case against the perpetrators.
He went on to say that Punjab police had claimed that they did not kill Bilal adding that who was powerful enough to keep his record obtained by the JIT from surfacing. "Lahore CCPO was not reinstated despite the court's orders, and KP Governor was not floating the date for the election in the province", he added. He reiterated who actually was behind all this.
He said it was up to Pakistanis now what path they wanted to trek now; the path of slavery or the path of real freedom, adding that the rulers had destroyed the country and ending their billions of corruption cases. "If the incident like that of Lahore had happened in the UK, people would have taken to streets against it", he added. It would not affect criminals like Nawaz Sharif, PM Shehbaz Sharif, and Asif Zardari, he said, who had their money outside the country, and it propelled him to call the masses to stand up for themselves.
He went on to say that the police had planned beforehand to create chaos and kill people and even had a plan to arrest him to shift to Baloshistan. Imran Khan said that even though PTI leader Hammad Azhar had finalised consultations with the police regarding the route the PTI had to follow. "The police came out of nowhere in the morning and placed the barricades", he added. They had planned, he said, that they would lodge cases against him after the people were killed. Were they dumb, he questioned, to think that he would get Zille Shah killed?
He continued that the PTI's election rally was banned despite the fact that the ECP had announced the schedule for the election in Punjab adding that they were ensuing fear in the masses so thieves might win again. "The nation should get ready for the struggle of real freedom and we shall not back off now", he added.
Imran went on to say that the PTI leaders were facing obstacles in their election campaigns despite the announcement of the election schedule. "So far 80 cases have been registered against me," Imran said, adding, "They are trying to spread fear to win the elections."
He stated that while on one hand the nation was getting poor, the rulers were getting richer day by day. Imran said that one path was leading towards slavery and destruction while another towards real independence.
He alleged that Asif Ali Zardari and Nawaz Sharif were looting the country for the last 30 years and it was the right time to stand against all of them. Imran said, "Disqualify me or arrest me, we have won the match."
"Their plan was to have blood on streets so they could run from elections" "Since one person has got a specific position, human rights violations have multiplied. There is a kind of fascism which is unseen in martial laws too," he added.
"When will our Judiciary wake up to stop custodial torture, which is not only a violation of our Constitution but also our international legal obligation as Pakistan is State Party to International Convention Against Torture (CAT)," he asked.
"We are facing restrictions on the election campaign despite the announcement of the election schedule. 80 cases were registered against me. They are trying to spread fear to win the elections," Khan added.
PTI Chairman appreciated Bol TV Co-Chairman Shoaib Shaikh for his determination and courage to uphold freedom of speech and freedom of expression.
He condemned the arrest of Bol TV Co-Chairman Shoaib Shaikh and he was being targeted for giving coverage to Imran Khan and PTI. The police reached Zille Shah's father's house and pressure is being put on him to somehow withdraw from the case. Despite the presence of all the videos and witnesses, efforts are being made to somehow make his death an accident or give some other reason.
According to the report, there were 26 marks of torture on Ali Bilal's body, the most important of which was that his head was regularly attacked with a stick and the bone of the skull was broken, which started bleeding inside the brain. But due to the violence that was done to the abdomen, and liver also ruptured and internal bleeding started. The most painful thing is that after so much torture, his delicate organs were also crushed by torture. The main cause of death was bleeding from the brain, spleen and liver.