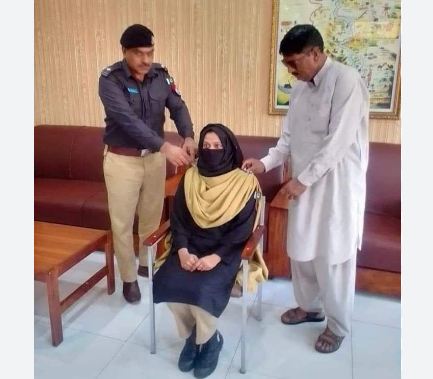 PESHAWAR, Sep 15 (APP/DNA): The Khyber Pakhtunkhwa Police and the Office of the District Police Officer (DPO) Kurram District have taken a significant step towards gender-inclusive and responsive policing by appointing the first-ever female police officials in Kurram, a newly merged tribal district.
In a commendable display of commitment to inclusivity and progress the office of DPO Kurram, Samreen Amir, and Sofiya Maseeh have been appointed as the first female Additional SHO (A-SHO) and Madad Muharrar (MM), respectively, in Kurram.
Their appointment marks a historic milestone, as they are not only the first female A-SHO and MM in the district but also hail from a minority group and are an active member of the EVAW/G Kurram Chapter.
The appointment of these dedicated women as per demand of the EVAW/G alliance members in law enforcement, is a testament to the evolving landscape of policing in Khyber Pakhtunkhwa and the vital role that women officers play in promoting gender-responsive policing.
EVAW/G Alliance KP and its district Chapter in Kurram applaud the Khyber Pakhtunkhwa Police and the Office of the DPO Kurram for this momentous achievement and urge continued efforts to promote gender equality and responsive policing throughout the province.
This appointment serves as a beacon of hope and progress for all communities, emphasizing that diversity and inclusion are fundamental principles in building a safer and more just society.
This historic step not only promotes gender parity within the police force but also strengthens community safety by addressing GBV more effectively.
The Khyber Pakhtunkhwa Police and DPO Kurram are setting an inspiring example for the rest of the region, demonstrating their commitment to creating safer and more inclusive communities.
Qamar Naseem Program Manager Blue Veins a local NPO implementing the "Promoting Rule of Law, Legal Literacy, and Women's Access to Justice in Khyber Pakhtunkhwa" project.
Women officers create a more comfortable and empathetic environment for survivors to report their experiences, fully understanding the unique challenges and emotions they face" "Their presence enhances the trust between law enforcement and survivors, encouraging more survivors to come forward and ensuring that justice is served" he added.
Jamshed Syed from EVAW/G Kurram Chapter said" Empowering women in the police force isn't just about equality; it's a crucial step towards safer and more compassionate communities. The DPO office's commitment to inclusivity and progress shines as a ray of hope, illuminating the path toward a more just and equitable society for all."