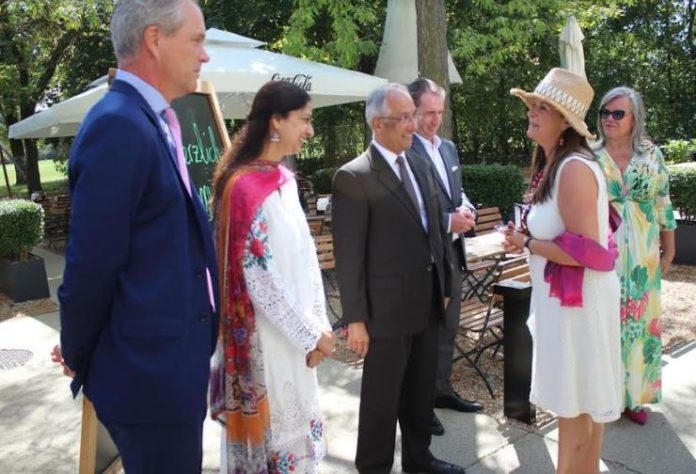 Vienna, /DNA/ – Today, Cercle Diplomatique magazine in collaboration with the embassy of Pakistan Vienna launched a special edition cover titled "Pakistan Treasure of Opportunities" dedicated to highlighting Pakistan's beauty at a reception held at iconic Danube Tower. The event was well attended by Austrian Parliamentarians as well as members of the diplomatic corps, academia, media and business community. Ambassador Aftab Ahmad Khokher was invited as the guest of honour at the occasion.
In his welcome remarks, Mr. Alexander Bursky, Managing Director/Editor of Cercle Diplomatique welcomed the guests and provided an overview of this edition of the magazine covering Pakistan. He also expressed his sympathies at the disastrous flood situation in Pakistan.
Speaking on the occasion, Ambassador Khokher expressed his sincere appreciation to the team at Cercle Diplomatique for organising the event, which highlighted Pakistan's cultural vibrancy, its top tourist destinations and opportunities for investment. Ambassador Khokher highlighted that Pakistan is the home of high-altitude mountain ranges with many peaks over 8000 metres and pristine beaches across the coastline.
Availing this opportunity, Ambassador Khokher briefed the audience about the devastating flooding which had caused catastrophic damage across Pakistan. He urged the international community to come forward and help Pakistan in this difficult time. He added that people of Pakistan are paying the price for calamity induced by the climate change, for which Pakistan was not responsible alone.  The guests made contributions/ donations for the flood affected people on the spot.

Cercle Diplomatique is a widely circulated magazine with an outreach in government and corporate sectors while also promoting linkages with the cultural community. It is published four times every year with a readership of over 200,000 across Austria and Europe.