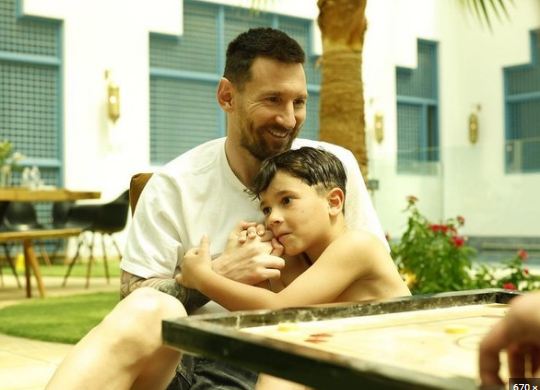 DUBAI: Argentine football legend Lionel Messi on Thursday looked back at his Riyadh visit by sharing pictures with his family on Instagram.
For the latest updates, follow us on Instagram @arabnews.lifestyle
"The best thing about holidays is spending quality time with our loved ones," he wrote to his 480 million followers. "Flashback to my visit to Riyadh, playing local games and making crafts with the warmest Saudi people."
"If you are still planning your holidays, head to the cool mountains of (Asir) and chill at 17°C degrees," he advised his fans.
The pictures feature the footballer playing with his sons and wife Antonella Roccuzzo.
He also shared an image of the picturesque mountains of Asir.
Messi visited the Kingdom in May and went to At-Turaif, the 300-year-old UNESCO World Heritage Site in Diriyah, and also explored some of Riyadh's more contemporary attractions.
He went on a guided tour in Diriyah and dined out at Al-Bujairi Terrace.
The jam-packed itinerary gave Messi and his family the opportunity to visit VIA Riyadh and Boulevard Riyadh City, two of the city's ultra-modern entertainment and retail districts.