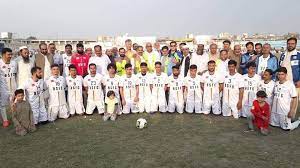 PESHAWAR, Aug 25 (APP):Mardan Club was suspended and stretched for beating the supervising referee during a course of the match in the ongoing Khyber Pakhtunkhwa Chief Minister Football Cup being played here at Tehmas Khan Football Stadium on Thursday.
The players of Mardan Club beat referee Zakir Ullah up, who was supervising in a match. Match referee Syed Imtiaz Ali Shah confirmed the suspension and stretching of Mardan team for misbehaving attitude.
All the matches of Mardan Club had been suspended in the tournament for misbahaving with the main referee Zakir Ullah and two assistant referees Hidayat Ullah and Abdur Rehman.
"We have expelled the team from the Football League in Peshawar for violating discipline, use of abusive language and scuffling with the referees. The match between Mardan and SDFC was going on when the players of Mardan challenged a decision of the main referee Zakir Ullah.
Zakir Ullah turned down Mardan's players' demand of changing the goal decision given against them to otherwise and thus the match was suspended when Mardan players attacked the referee. The match referee and organizing committee protected the referees from the attack of Mardan players and thus match Commissioner Syed Imtiaz Ali decided to stretch the Mardan team.
Syed Imtiaz Ali Shah said that he has received the report of the supervising referees Zakirullah, Hidat Ullah and Abdur Rehman and thus declared SD Club as winners against Mardan but the players of Mardan refused to concede the goal and the players left the ground.
"We have given time to Mardan to clear their position but they failed and thus action was taken against the team by suspending all its matches. The referees announced that they would not supervise Mardan matches in any of the tournaments being played anywhere in Khyber Pakhtunkhwa.
In the second match being played between Kurram Football Club and Dera Club in which Kurram won by 3-1. Shah Faisal, Hamza and Ibrahim scored one goal each for Kurram while Omar Daraz scored a goal for Dera Club of Dera Ismail Khan.