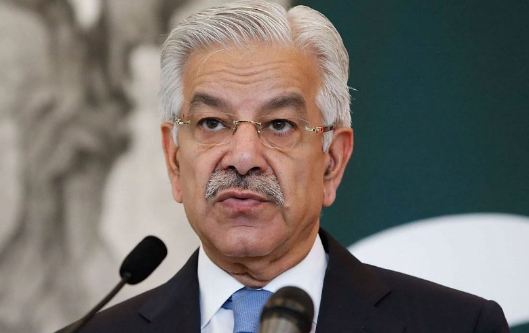 SIALKOT, MAY 21 (DNA) — Defence Minister Khawaja Asif has said that those who have attacked the military installations, they cannot be patriotic, adding that the May 9 incidents were an attack on the integrity and existence of Pakistan.
The minister was addressing the media in Sialkot on Sunday. He said that Shuhda are the benefactors of the nation. The martyrs of Pakistan Army have rendered numerous sacrifices, he said, adding that the soldiers of Pakistan Army are still lying their lives for the defence of this country.
Kh Asif lamented that a man attacked the foundation of Pakistan out of his lust for power. "What happened on May 9, it was an attack on the integrity and existence of Pakistan," he added. He said there is no difference between attacks on the Corpse Commander House in Lahore, GHQ in Rawalpindi and Mianwali Air Base and the attacks launched by India.
A disruptive group of people from inside the country vandalized the sacred memorials. "Targeting military installations in Pakistan is one of the chief objectives of India," the defence minister held. He said that power is always fleeting, but the Pakistan Muslim League-Nawaz and Pakistan Peoples Party never targeted the Army. "Those who have attacked the Army will be brought to justice," he vowed.
The minister clarified that no new military courts would be established for trying those who attacked the military installations on May 9. He said no new military courts are being set up for this very purpose. He said law is already there, courts are present and they have been working for the past 75 years.
Assuaging the fears regarding human rights violations in case military courts are established, the minister insisted that the government is not usurping people's basic rights. He said the cases would be pursued against individuals whose "footage, faces and identity is present that they are attacking military installations".
Later, the defence minister laid a floral wreath on the monument of Shuhda in Chondah, Pasrur and recited Surah Fateh. Local PML-N leadership including MNA Zahid Hamid were also present on this occasion. — DNA