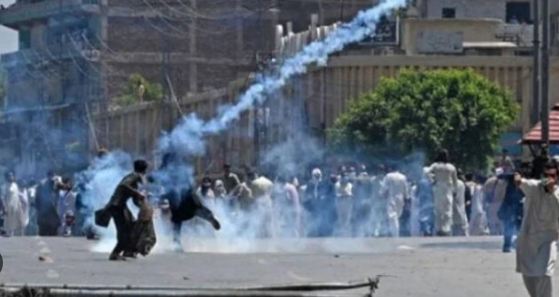 ISLAMABAD, The investigators have identified 41 people
from the United Kingdom (UK), United States (US) and Canada who were
directly involved in inciting and facilitating May 9 riots.
Progress was made in the investigation into the May 9 riots as the
authorities identified 41 people in foreign countries including UK, US
and Canada who incited and facilitated the rioters.
Sources said that most suspects were associated with a political party
and its office bearers and workers. The identification of the suspects
was made through photos and videos in which they chanted anti-Pakistan
slogans and incited people to participate in anti-state activities.
Three out of 41 suspects included office bearers of a political party in
the UK, whereas, 12 among them were residing in London and are usually
seen standing outside Avenfield House.
In Canada, the suspects included eight office bearers of the political
party who are also its supporters and financers. One of the office
bearers in Ottawa was found involved in planning to throw shoes on the
government ministers during their visits to the US and Canada.
In the United States, one of the six suspects was identified as an
office bearer of the political party's New York chapter and the other
five persons are activists.
Sources added that the Pakistani government decided to take strict
action against the suspects in the country and the foreign countries.
Earlier in the month, Ministry of Foreign Affairs (MoFA) said that
Pakistan will bring the alleged suspects involved in the May 9 riots to
justice.
Foreign Office spokesperson Mumtaz Zahra Baloch said that Pakistan will
follow its laws and its international obligations in bringing to justice
individuals responsible for the events of 9th May.
She said that the ministry received the requests for counsellor access
to May 9 suspect Khadija Shah and those requests have been sent from the
Ministry of Foreign Affairs to the Ministry of Interior, which takes the
final decision in such cases.
Moreover, the MoFA spokesperson said that Pakistan has constitutionally
guaranteed human rights and fundamental freedoms and Pakistan is a
democratic setup with free and independent judiciary.