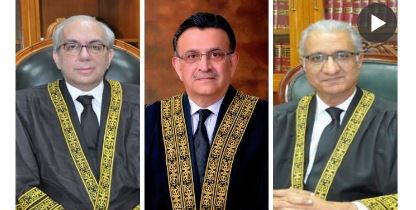 ISLAMABAD, JUL 25: A three-member bench of the Supreme Court headed by Chief Justice of Pakistan (CJP) Umar Ata Bandial has resumed hearing on the petition filed by Chaudhry Parvez Elahi against Deputy Speaker Dost Muhammad Mazari's ruling over the election of Punjab CM.
At the outset of the hearing, the chief justice observed that several former SCBA presidents were present in the courtroom. The ongoing case was directly related to the SC's interpretation of Article 63-A, he remarked.
The bench called former Supreme Court Bar Association (SCBA) president Latif Afridi to the rostrum.
Afridi said the country's current political situation was "very complicated".
"Our former presidents held a meeting. The SCBA's petition for review [of the Article 63-A interpretation] is pending adjudication," he informed the court.
A full-court bench should be formed to avoid a constitutional crisis, he requested the court. "The crises are deepening. The entire system is at stake."
In the last hearing on Saturday, the court had summoned the deputy speaker but his lawyer had come in his place. The SC had also issued notices to Hamza, Attorney General of Pakistan Ashtar Ausaf, Punjab Advocate General Shahzad Shaukat and the province's chief secretary.
It ruled that Hamza should work as per the Constitution and law during the time period. "As the chief minister, Hamza Shehbaz will not use his powers for political gains," it stressed.