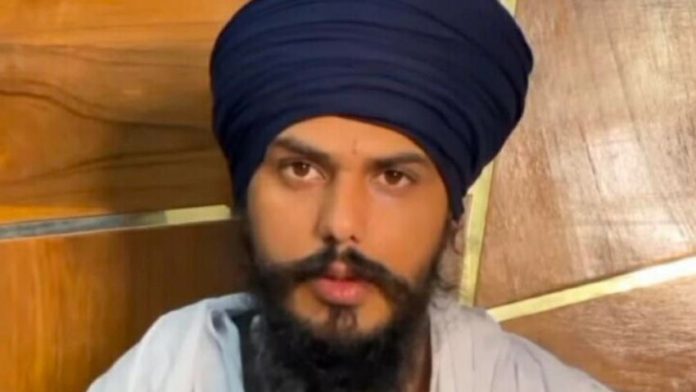 Mobile and internet services were suspended in several areas of India's Punjab on Sunday as the police launched what it called a "manhunt" for prominent Sikh leader Amritpal Singh, Indian media reported.
India media describes him as a "Khalistani leader".
According to a Scroll.in report, statewide "cordon-and-search operations" were launched against Singh's organisation Waris Punjab De on Saturday.
"As part of the operations, 78 persons have been arrested and several more have been detained," it quoted the police as saying.
On Sunday, India Today reported that security has been beefed up across Indian Punjab as the search for Singh continued for the second day.
"[The] father of Amritpal Singh, who was declared a fugitive by the Jalandhar Commissioner on Saturday (March 18), said the Punjab Police conducted searches at his residence in Amritsar but did not find anything illegal," it said.
"We don't have any information about his whereabouts. They carried out a search at our residence for 3-4 hours but did not find anything illegal. Police should have arrested him before he left home," the report quoted Singh's father as saying.
Meanwhile, The Wire said Section 144 of the Indian Code of Criminal Procedure, which prohibits the assembly of five or more persons, has been imposed in many districts of Punjab — including Sri Muktsar Sahib and Fazilika, two of the six border districts of Punjab.
"Heavy police deployment was made in all district headquarters, including Singh's hometown near Amritsar. The paramilitary forces have sealed off the Jallupur khera, which is Amritpal Singh's native village," it stated.
The report also said that mobile internet and SMS services in several districts of Punjab have been suspended till today afternoon.
The action against Sindh, according to The Wire, comes after he and his workers "laid siege to a police station" in Amritsar's Anjala to "free one of his aides".
"The government confirmed that the action against him and his supporters was linked to his attack on the Anjala police station last month," The Wire said.
The media outlet added in its report that a first information report (FIR) had also been filed against Singh and his supporters last month "for their involvement in four criminal cases relating to spreading disharmony among classes, attempt to murder, attacking police persons and creating obstructions in the lawful discharge of duties of public servants".