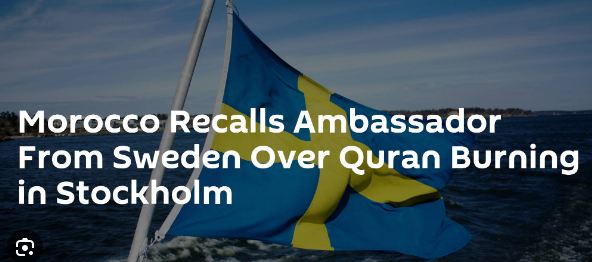 RABAT, June 29 (Xinhua):-- Morocco has recalled its ambassador from Sweden for indefinite consultations after the burning of the Muslim holy book Quran in Stockholm, the Moroccan Ministry of Foreign Affairs said Thursday in a statement.
According to media reports, the Swedish government authorized a demonstration outside the Stockholm Mosque at the Medborgarplatsen square in the Swedish capital on Wednesday, the first day of Eid al-Adha, one of the most celebrated festivals on the Islamic calendar.
During the demonstration, a person identified as Salwan Momika came in front of the mosque, threw the Quran on the ground, stepped on it, uttered insulting words against Islam, and set the book on fire, said the media reports.
Morocco has also summoned Sweden's charge d'affaires in Rabat, who was informed of Morocco's "most vigorous condemnation of this offense and rejection of this unacceptable act," the statement said.
"This offensive and irresponsible act disregards the feelings of more than a billion Muslims during this sacred period of the great pilgrimage to Mecca and the blessed feast of Eid al-Adha," it added.