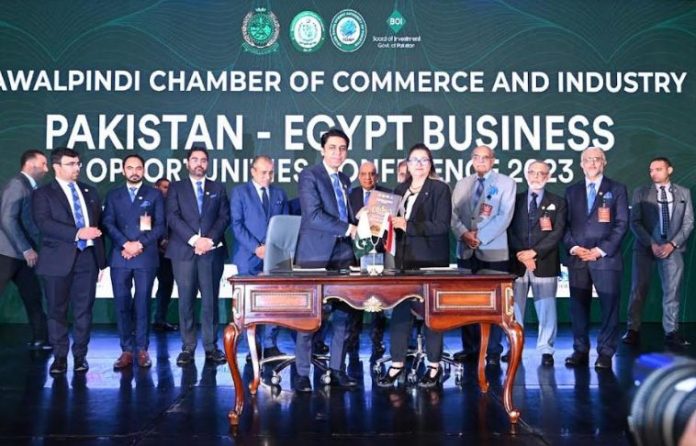 DNA
RAWALPINDI: The companies from Egypt and Pakistan have signed more than seven MoUs (memorandums of understanding) for mutual cooperation in education, tourism and food sectors during a business opportunities conference held in Cairo. The Pakistan-Egypt Business Opportunities Conference was organized in Cairo, Egypt by the Rawalpindi Chamber of Commerce and Industry (RCCI) in collaboration with the Embassy of Pakistan in Cairo.
RCCI president Saqib Rafiq informed that the purpose of the conference was to enhance bilateral trade and investment ties between the two countries and it coincided with the ongoing celebrations of the 75th anniversary of the establishment of diplomatic relations between Pakistan and Egypt. The MOUs will help in broadening the networking opportunities, exploring possible opportunities for joint ventures and attracting foreign investment in Pakistan.
He added that the minister for Public Business Sector of Egypt Engineer Mahmoud Esmat was the chief guest on the occasion. Head of Egyptian Commercial Services Yahya El-Wathik Bellah Ahmed, Ambassador Sajid Bilal, Dr. Alaa Ezz Amin, Secretary General of Chamber of Commerce, RCCI top leadership, President Saqib Rafiq, group leader Sohail Altaf, Senior Vice President Muhamamd Hamza Sarosh, Vice President Faisal Shahzad, Chairman RIAA Shahraiz Ashraf Malik, former presidents, Executive Committee members, high-ranking government officials, members of the diplomatic community, representatives of the Chambers of Commerce of Egypt and a large number of Egyptian businessmen, , among others, were also present on the occasion.
Dr. Alaa Ezz Amin, Secretary General of Chamber of Commerce, shared a presentation with the audience for possible trade opportunities, scope of investment and sector specific growth.
The ambassador Sajid Bilal lauded RCCI efforts for organizing the event and also praised the role of Pakistani and Egyptian companies in promoting bilateral commercial relations. He highlighted the ongoing mechanisms and mutual efforts of the two governments to realise the full potential of trade and investment between Pakistan and Egypt.