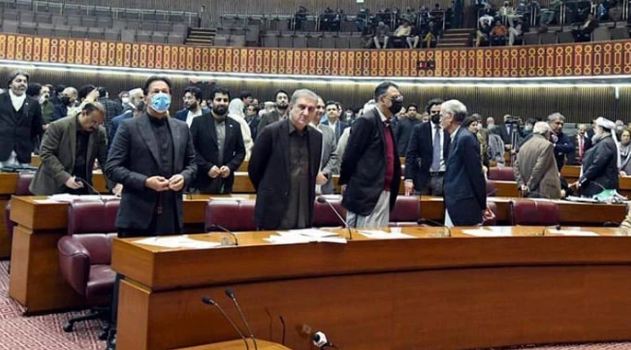 ISLAMABAD: National Assembly Speaker Raja Pervez Ashraf has approved the resignations of 43 more Pakistan Tehreek-e-Insaf's lawmakers in the lower house, sources told on Tuesday.
Officials at the speaker's office, who spoke on the condition of anonymity, said that Ashraf had approved the resignations on January 22 and sent a summary to the Election Commission of Pakistan (ECP) for the lawmakers' denotification.
The approval means that only dissident PTI lawmakers remain in the National Assembly now. Interestingly, the development comes a day after the party announced that it is withdrawing the resignations of 45 PTI MNAs and also approached the ECP in this regard.
According to sources, the resignations of Muhammad Nawaz Allai and Sardar Talib Hassan Nakai were not accepted as they had submitted leave applications.
'Shehbaz Sharif has lost support of 172 members'
Reacting to the development, senior PTI leader Fawad Chauhdry said the main reason to return to the National Assembly was to remove Raja Riaz as the opposition leader otherwise the legislature had "no importance".
"Right now, Shehbaz Sharif has lost the support of 172 members and is relying on lotas (turncoats) to save his government," tweeted Fawad. 40% of NA seats are now vacant as a result of the speaker's move to save Raja Riaz, he added.
"Country is close to pols now. The only solution to this problem is general elections," said Fawad.
PTI requests ECP not to denotify MNAs
On Monday, PTI lawmakers had requested the ECP that they should not be denotified if Speaker Ashraf approves their resignations.
The PTI made the request after it informed the electoral body that their MNAs were withdrawing their resignations and the NA speaker had also been informed about it.
The resignations
The PTI lawmakers had tendered their resignations en masse after the Imran Khan-led government was ousted via a no-confidence motion in April of last year.
The PTI had claimed resignations were accepted by former deputy speaker Qasim Suri in absence of the speaker after Asad Qaiser's resignation.
Speaker Ashraf, after approving 11 resignations of PTI lawmakers in July 2022, had stalled the process stating the remaining lawmakers would be summoned individually for verification.
However, contrary to his stance, he quickened the process once PTI, earlier this month, announced its return to the assembly and "test" the PM through a confidence vote.
So far, the resignations of 123 PTI MNAs have been accepted and 81 members have been denotified.
The PTI resignations were accepted by NA Speaker Ashraf in four stages. Initially, only 11 resignations were accepted, while 34 resignations were accepted on January 17, another 35 on January 20 and now 43 have been approved.