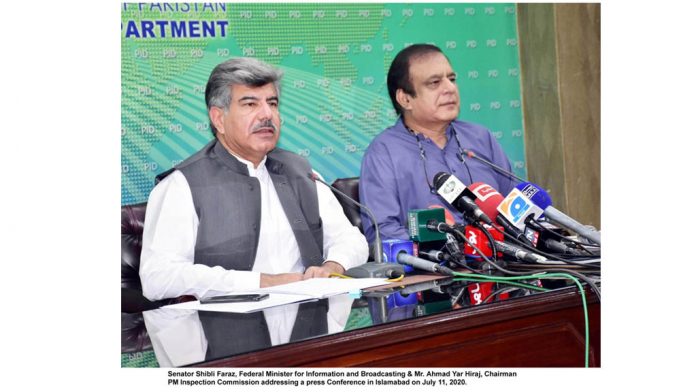 ISLAMABAD : The Federal Minister for Information and Broadcasting Senator Syed Shibli Faraz has said that the International Monetary Fund (IMF) has appreciated our initiatives to boost the economy and the nation will hear good news soon.
While addressing a Press Conference along with the Chairman Prime Minister's Inspection Team Ahmad Yar Hiraj, Senator Shibli Faraz said that due to the prudent policies of the incumbent government, we have handled the Coronavirus pandemic effectively and now flattening of the curve is being observed in the Cases.
The Chairman Prime Minister's Inspection Team Ahmad Yar Hiraj said that under the reforms agenda of the government, the Inspection Commission has completed 24 inspections during 18 months.
Ahmad Yar Hiraj said that reports of these inspections have been sent to Prime Minister Imran Khan and actions are being taken against the culprits involved in corruption and embezzlement.
The Chairman Inspection Team said that the government is paying the cost of corrupt practices that have been committed by the employees of different institutions; however, previous governments remained silent over it.
Moreover, he said that recommendations regarding reforms in the Accountant General of Pakistan Revenues (AGPR) are also being sent to the prime minister.
Ahmad Yar Hiraj said that the Federal Investigation Agency (FIA) has also been directed to take action against the employees of AGPR who were involved in malpractices after evaluating the details of their assets.
The Chairman expressed hope that within a few months, the AGPR's performance will improve and its system will become more transparent.