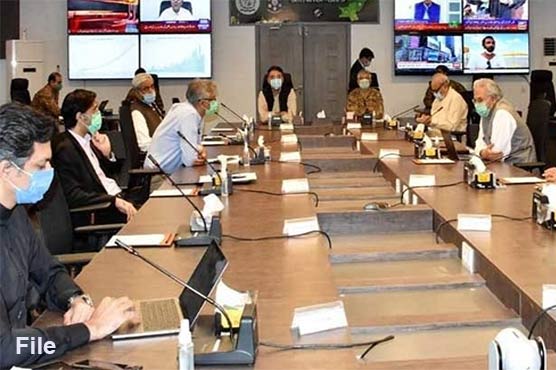 ISLAMABAD ,MARCH 28 : National Command Operation Center (NCOC) on Sunday has expressed concerns over increasing cases of coronavirus across the country.
According to details, the NCOC members have met under the supervision of Federal Minister for Planning and Development Asad Umar and discussed the COVID-19 situation.
During the meeting, the provinces have been directed to strictly follow standard operating procedures (SOPs) to avoid the spread of the infection. The participants also expressed concerns over the slow process of administrating the vaccine to the people.
Earlier, Asad Umar had feared that coronavirus situation might get out of control if preventive measures were not strictly adhered to.
The minister reiterated that hospitals are reaching their maximum capacity and if precautionary measure are not followed, government will have to take tough decisions.
The NCOC head further said that public is not comprehending the seriousness of third wave of the coronavirus, which is being caused by the UK variant and warned that the new variant is more dangerous and contagious.
On the other hand, Pakistan has reported 57 deaths in the last 24 hours by novel coronavirus as the number of positive cases has surged to 654,591. The nationwide tally of fatalities has jumped to 14,215.
According to the latest figures by the National Command and Operation Center (NCOC) 4,767 persons tested positive for COVID-19 in the past 24 hours.
Punjab remains the worst-hit province in terms of deaths followed by Sindh and Khyber Pakhtunkhwa.
Till now 264,607 coronavirus cases have been confirmed in Sindh, 212,918 in Punjab 84,609 in Khyber Pakhtunkhwa, 55,594 in Islamabad, 19,497 in Balochistan, 12,367 in Azad Kashmir and 4,999 in Gilgit-Baltistan.
Furthermore 6,229 individuals have lost their lives to the epidemic in Punjab 4,491 in Sindh, 2,283 in KP, 559 in Islamabad, 344 in Azad Kashmir, 206 in Balochistan, and 103 in GB.
Pakistan has so far conducted 10,066,726 coronavirus tests and 45,656 in the last 24 hours. 595,929 coronavirus patients have recovered in the country whereas 3,043 patients are in critical condition.