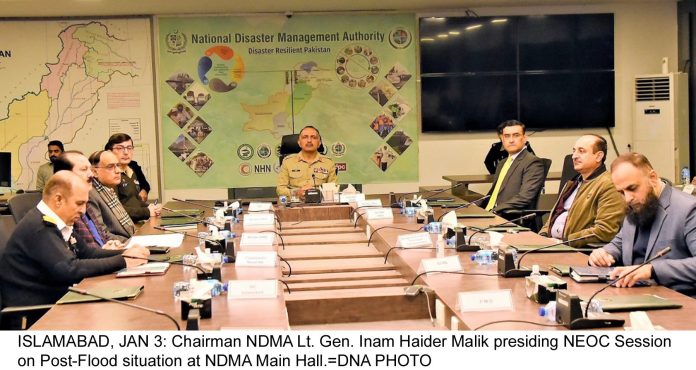 ISLAMABAD, JAN 03 (DNA) — The National Disaster Management Authority (NDMA) on Tuesday held a meeting at National Emergencies Operations Centre (NEOC) here which was presided by Chairman NDMA, Lieutenant General Inam Haider Malik.
The representatives from Ministry of Food Security, Ministry of Health Services, Pakistan Meteorology Department (PMD), National Highway Authority (NHA), National Information Technology Board (NITB), Provincial Disaster Management Authorities (PDMAs) and Irrigation departments of Gilgit Baltistan (GB) and Sindh participated in the meeting.
However, the representatives from the PDMAs briefed the house on recovery and rehabilitation progress in their provinces after Floods 2022. Sindh Irrigation Department informed that 95 percent flood water had been evacuated from Right and Left Bank of River Indus.
The PMD presented the weather outlook and stated that first week of January would remain frigid in most parts of the country, whereas, foggy condition in north and east Punjab and frost in Islamabad, Potohar region, Upper KP and Kashmir was likely to prevail in the same period.
The Ministry of Health and Services updated the forum on construction of houses for lady health workers in Sindh. The NHA briefed the session on restoration of Lunda Bridge in Balochistan and told that revised designing of structure had been completed and installation process was underway.
The representative of Ministry of Food Security apprised of mustard and sunflower seed sowing in Sindh and stated that nearly 80 percent cultivation target had been achieved in lower Sindh. NITB informed NEOC about registration of farmers on digital application for provision of relief to flood-affected farmers.
Chairman NDMA expressed satisfaction over the progress on recovery and rehabilitation efforts in flood ravaged areas. He instructed the relevant stakeholders to made coordinated efforts for speedy execution of restoration work in flood affected areas. = DNA