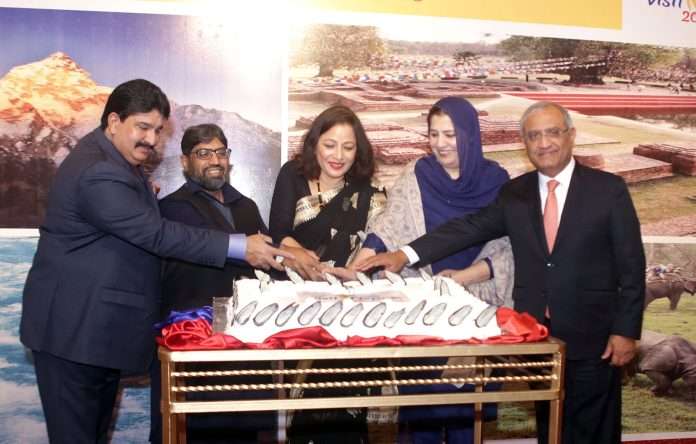 Ties with Pakistan nurtured by the mighty Himalayas, flourished by the Gandhara civilization and cherished by our people; Visa on arrival facility for Pakistani friends
====================
by ANSAR M BHATTI
ISLAMABAD, JAN 8 (DNA) –Ambassador of Nepal Sewa Lamsal Adhikari has said cooperation in tourism sector can surely strengthen and improve people to people contacts between Nepal and Pakistan adding Nepal was land of breathtaking beauty coupled with diverse natural and cultural heritage.
She expressed these views while speaking during the launching ceremony of Visit Nepal Year 2020. Dr. Nadeem Shafiq Secretary literary heritage was the chief guest.
The ambassador further said, Nepal is a tourist friendly country and it attaches great importance to tourism. It is one of the development pillars as well as tools to promote people to people relations and public diplomacy.
Ambassador Adhikari further said the Nepal govt is celebrating Visit Nepal Year 2020 as a national campaign with a theme Nepal: Lifetime Experience and has set a target to host over two million tourists from all over the world in the year 2020.
She said diversities in its geography and landscape, ethnicity and culture and flora and fauna all have contributed to make Nepal an outstanding tourist destination.
The ambassador said Nepal was a multi cultural multi religious and multi lingual country which houses over 120 ethnic groups, 125 different languages and major religions in the world. It is a hub of spiritual affinity to millions of people for heir homage and pilgrimage, meditation and yoga as well as enlightenment and purity, a blend of Gynabhumi Shantibhumi and Kannabhumi, a land of peace and a land of actions.
'Nepal is the fountain of peace, the birth place of Gautama Buddha the founder of Buddhism who kindled the light of knowledge, wisdom and peace in the garden of Lumbini and spread the message of peace and shared prosperity all over the world'.
Ambassador Adhikari further said Nepal treasures 10 famous world heritage sites recognized b the UNESCO including the Pashupatinath Temple, Swaymbhunath Stupa, Boudhanath Stupa, Kathmandu Durbar Sqaure, Patan Durbar Square, Bhaktapr Durbar, Changu Narayan Temple, Lumbini, Chitwan National Park and Sagarmatha National Park.
While talking about bilateral relations the ambassador said Nepal and Pakistan have been enjoying cordial bilateral relations. Our bilateral relations are based on sovereign equality, goodwill, mutual respect and deep understanding.
These relations of mutual cooperation and friendship have been continuously nurtured by the mighty Himalayas, flourished by the Gandhara civilization and cherished by our people.
"The connection of Mount Everest and K2 along with Lumbini and Taxila are the living testimonies and building blocks of our relations. The ongoing 60 year of our bilateral relations speak lounder than words in the comity of nations. On this double blessed occasion, I invite the business fraternity of Pakistan to explore investment opportunities between the two countries".
The ambassador said there exists tremendous potential for joint ventures in tourism. Nepal's tourism remains one of the lucrative areas where investors can consider their investments without any doubt in adventure tourisms, sports tourism and infrastructure and service industry among others.
In conclusion the ambassador said Nepal offered on arrival tourists visas to Pakistani friends therefore they should make optimum use of this facility and visit Nepal to explore a country which is known as a paradise for tourists.=DNA