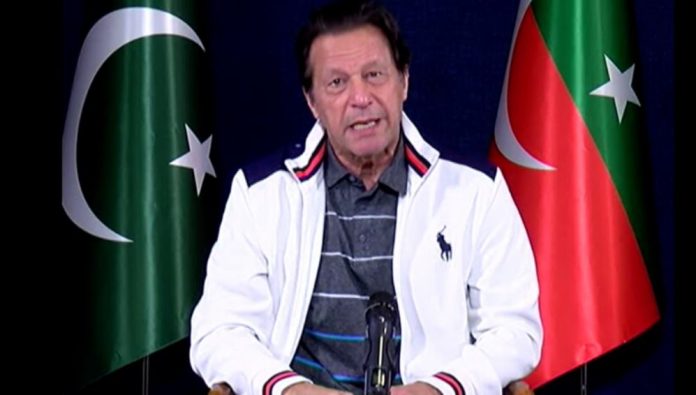 ISLAMABAD, JUN 22 (DNA) — Pakistan Tehreek-e-Insaf (PTI) Chairman Imran Khan has said that he never thought about appointing some of his favourite army chief in November.
Imran Khan addressed the seminar titled "Regime Change Conspiracy and Pakistan's Destabilization" on Wednesday. He categorically rejected the claim of Nawaz League's leader Khurram Dastgir against him that he was going to appoint General Faiz Hameed as the new army chief for personal interests.
Former Prime Minister said he never violated merit in sport or even in the hiring in Namal University or Shaukat Khanum Hospital. The PTI chairman explained that controlling the army by appointing a favourable army chief is a problem for Nawaz Sharif to save his corruption ever.
And now Nawaz Sharif's party is doing the same thing in all departments and has appointed its favourite heads everywhere like FIA, Imran said. "Actually, they wanted to appoint the army chief of their choice so they could get relief from accountability," Imran Khan claimed.
"I had never thought, even once, about appointing a new army chief in November as this was not an issue. I always believe in merit and if the time would have come, I would have the person on merit," he added.
PTI Chairman Imran said America did not change its regime for democracy but for its own interest across the world. He further stated that is it in our interest to give airbases to the USA in Pakistan?
He added that the clear agenda of the USA is to get airbases in Pakistan, to accept Israel as a state and India as 'Thanedar' (policeman) of this region.
So now, it should be decided whether Pakistanis want to be used like tissue paper or not which was the main reason for his slogan "Absolutely Not" anymore. He said he felt pain when the neutrals appointed the thugs and thieves in the government because he was not thinking about such a thing ever.
He said Brigadier Ranjha did election engineering for PMLN in 2018 and now again such engineering is going on under the command of Princess and Prince with the help of some people in Lahore. Ending his speech to the seminar, Imran Khan raised a question to the neutrals, "Can be a security guard neutral during a dacoity in the house". =DNA