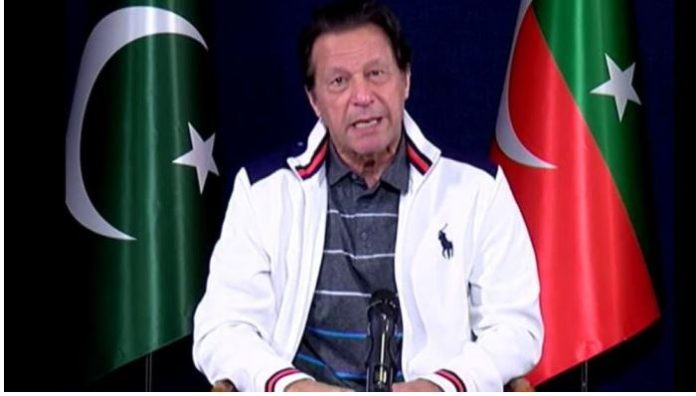 ISLAMABAD: /DNA/ – Rejecting the notion of appointing favourite general as Pakistan's army chief in November 2022, Pakistan Tehreek-e-Insaf (PTI) chief Imran Khan made it clear that he was a strong believer in merit because appointments against merit ruin the institutions.
Speaking at PTI's regime change conspiracy here on Wednesday, he said that PML-N leader Khurram Dastagir confessed that these crooks ganged up against him because I was planning to appoint Lt Gen Faiz Hameed as new army chief to materialize my agenda to rule the country for the next15-year sans any interference.
However, Imran Khan stated he had no such ambitious plan because he believed in meritocracy.
Lashing out at fugitive Nawaz Sharif, Imran Khan said that Nawaz tried to pick his favourites for such prestigious positions because he had to protect his ill-gotten wealth and looted money.
"I have never even forced Shaukat Khanum Hospital to appoint a person on my orders, how can I do it as a prime minister," he added.
Imran Khan said that he had started struggle against them 26 years ago against Nawaz Sharif and Asif Ali Zardari whose sole purpose of politics were loots and plunderers.
PTI Chairman recalled that he had already hinted that all these corrupt and crooks would unite the day he would come to power, adding that now the arch rival PPP and PML-N were allied partners in the coalition government because their only purpose was to protect themselves from accountability.
Talking about the US regime conspiracy, Imran Khan revealed that the US did not want the betterment of any country but to safeguard their interests.
He said that providing military bases to the US was not in Pakistan's interest that was the reason; he flatly refused and said absolutely not for the sake of Pakistan.
"I am not an anti-American, I want to have good relations with the US, but I cannot let them use us like 'Tissue papers'. The U.S wants us to recognize Israel and not talk about Kashmir so that India is strengthened, to curtail China's power," he maintained.
Imran Khan went on to say that Pakistan was exploited in the US-led war on terrorism, as the then President was threatened by the US administration that they would bomb Pakistan into the stone age in case of non-compliance of orders.
PTI chairman raised question as what Pakistan got to become partner with the US in its war against terrorism, as Washington gave a total aid of $20 billion to Pakistan, but the country suffered lost over $150 billion in this war.
Talking about the military operations in ex-FATA, PTI Chairman stated that the government did a blunder to send troops to the tribal areas and launched military offensive, causing huge lose to the area as well as to the country.
He lamented that anybody who opposed the military operations against own countrymen they were instantly labeled as terrorist.
"Pakistan is standing at crossroads, as people will have to choose between a hard path of real independence or being ruled by these cabal of crooks and dacoits," he said.
Talking about the conspiracy to topple PTI government, he said that all economic indicators were positive in his government and he informed the neutrals about the conspiracy and it's hazardous implications for the country, which was evident within few weeks, as the current government destroyed everything and reversed the PTI hard gained.
Imran Khan shocked that he even can't imagine that Shehbaz Sharif would be made the Prime Minister of the country who was facing billions of corruption cases against him and recently on bail.
Talking about the ECP, he said that electoral body has lots it's credibility and even could not hold a free, fair and peaceful election in one constituency, which would dent the democratic process the most.