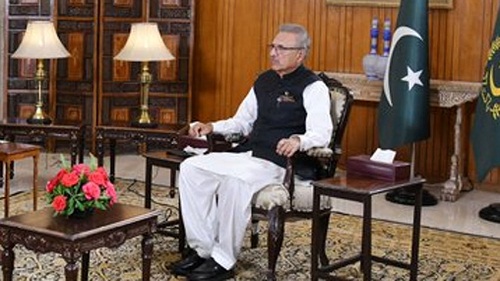 Islamabad : President Dr. Arif Alvi says the government will not apply the National Reconciliation Ordinance in the corruption cases as the people want the Pakistan Tehreek-e-Insaf to go after the corrupt elements.
In an interview with a private news channel, he said Prime Minister Imran Khan is disappointed and frustrated because of the way corruption cases prolonged and no verdicts were handed down despite the presence of evidence.
The President said Prime Minister Imran Khan is the biggest advocate against Islamophobia and he took up the issue of caricatures published in France.
He said the Parliament has an important role, and the government and opposition should sit together on issues of foreign affairs, price hikes and electoral reforms.
He said electronic voting machines should be used in the next election.
To a question, the President said action against different mafias, including land grabbers, sugar and water mafias is very difficult but the government would succeed at the end.
He said due to the government's efforts the economy is improving and there is growth in various sectors.