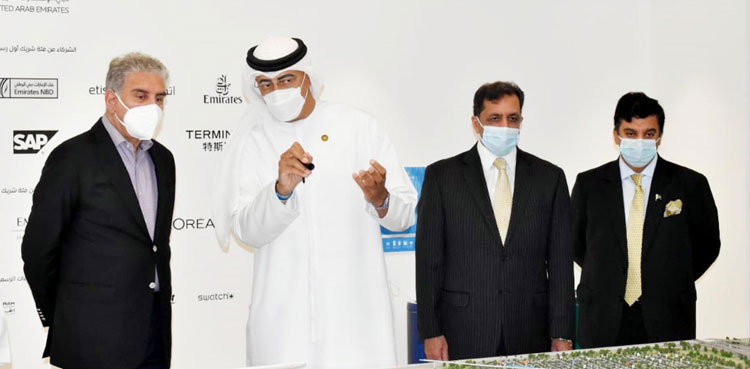 DUBAI , APRIL 19 : Pakistan's Foreign Minister Shah Mahmood Qureshi said in Dubai on Sunday there would be no 'secret meetings' between Pakistan and India during his three-day UAE visit.
The announcement that Qureshi's Indian counterpart S. Jaishankar would also be in the UAE at the same time as him triggered speculation about a meeting between the two. Their arrival in the UAE comes just days after the Emirati envoy to Washington confirmed the Gulf state had been mediating between the nuclear-armed rivals to help them reach a "healthy and functional" relationship.
"There have been a number of speculations about secret meetings between me and the external affairs minister of India, S. Jaishankar but neither was our meeting planned and nor are we meeting," Qureshi said.
He said Pakistan appreciated the role played by the UAE, but there could be no further talks between India and Pakistan without the issue of Kashmir being discussed.
"There is no need for us to meet through back doors when we have been inviting India for talks on the table," Qureshi said.
"Whenever we will talk about Kashmir, Siachen or about the water issue, it will always be done on the table," the minister continued.
Recent reports have also suggested that the two governments have reopened a back channel of diplomacy aimed at a modest roadmap to normalizing ties over the next several months.
Last month, the military operational heads of Pakistan and India signed an agreement to stop firing along the Line of Control (LoC) — their de facto border in the Kashmir region.
Qureshi said he was unaware of media reports suggesting members of intelligence agencies of both countries had recently met.
"Intelligence exchange between countries is normal because security agencies in the world exchange information," he added.
Qureshi is scheduled to meet the Gulf state's foreign minister Sheikh Abdullah bin Zayed Al Nahyan tomorrow.
"The reason for my visit is to further strengthen our bilateral relations with the UAE," he said, and added that issues concerning visas for Pakistanis were being addressed.
"The situation has improved after my last visit to UAE in December 2020 and families have been granted visas but people under the age of 40 are still facing issues," he said.
Earlier in the day, Qureshi visited the Pakistan Pavilion that has been set up at the Dubai Expo site. The Dubai Expo is due to begin on October 1 this year.