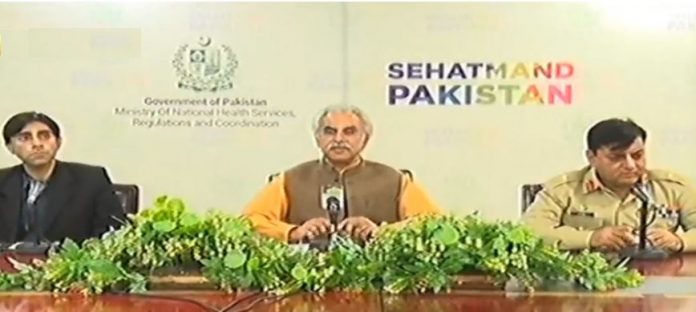 Special Assistant to Prime Minister on Health Dr. Zafar Mirza has expressed optimism that number of persons recovering from coronavirus in the country will increase in the coming days.
Giving a media briefing along with Special Assistant on National Security Division Dr. Moeed Yusuf and Chairman NDMA Lt. Gen. Muhammad Afzal in Islamabad on Monday, he said confirmed cases reported in Pakistan during the past 24 hours are 99, which are lesser than the cases reported in previous 24 hours.
Chairman NDMA said seven machines in cooperation with National Institute of Health have been provided to various hospitals of the country. He said testing facilities will soon be available in Gujrat and Bahawalpur while evaluation of laboratories in Sargodha is being carried out. He said Sindh government was given 20,000 testing kits while Punjab 5,000 kits today.
He said four to five flights will go to China in a few days to pick up ventilators, personal protection equipment and other essential medical supplies.
Special Assistant on National Security Division Dr. Moeed Yusuf said government is working on various options regarding transportation in the country. However, no decision up to now has been made on restarting passenger operation of Pakistan Railways.
He said airports will be gradually reopened next month after taking into view all outcomes. He said all Pakistanis have been brought back or their visas arranged with the host governments.