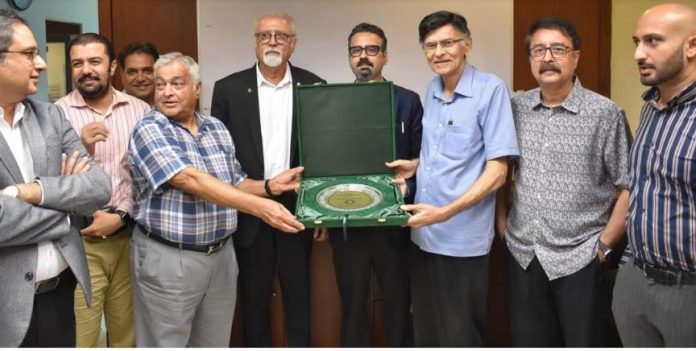 ISLAMABAD, AUG 29 /DNA/ – An impressive signing ceremony of the MoU between The Pakistan Association of Auto Parts & Accessories Manufacturers (PAAPAM) and the Canada-Pakistan Business Council (CPBC) was witnessed here at PAAPAM office today.
The MoU was aimed to enhance and develop business and investment relations between the two countries. Pakistan's auto part industry is seeking globalization and partnerships, including Canada and North America. The President of CPBC, Samir Dossal, and the Chairman of PAAPAM, Munir Bana, were the signatories to the document.
Athar Khan, Trade Commissioner at Canadian Trade Service, and Ghulam Ali Shah Pasha, a board member of Pakistan Trade Development Authority (TDAP), also witnessed this jubilant occasion along with the PAAPAM managing committee and stalwarts.
Referring to the need for strong bilateral cooperation between the Canadian and Pakistani SME sectors, especially in engineering goods and services, Dossal underscored the opportunities that could be leveraged for trade flow in both directions, including joint ventures and acquisitions.
Bana appreciated the proactive approach of CPBC and expressed the MOU would open many new avenues of bilateral trade and collaboration between the two countries. He furthered that PAAPAM members had demonstrated to provide international quality standards with the automotive sector, and they could easily leverage those competencies to ramp up the global marketplace. Senior executives of PAAPAM also shared their views on moving forward and recognized this as an appropriate time to embark on such initiatives. A working committee was established to articulate a modus operandi, including joint ventures, strategic alliances, and technology transfers. A positive energy was seen on both sides to develop ways companies could reduce the risk of entering bilateral business relationships between Pakistan and Brampton / Canadian markets. Both sides agreed to advocate their governments on policies hindering business linkages between Pakistan and Canadian companies. The forum also would provide stakeholders with networking, exchanging ideas and information, business match-making, and service-identifying opportunities between PAAPAM and C-PBC members. a
The PAAPAM Chairman observed that the automobile industry has always been the backbone of any economy and that is why it is often called the mother of all industries. The automobile industry is unique as it encompasses practically all available engineering technologies. Pakistan Association of Automotive Parts & Accessories Manufacturers was formed in 1988 to represent the industry and to provide technical & management support to its members. It is now over two decades old and, over the years, this association has attained a certain level of maturity by becoming an indispensable and extremely effective link between the policy-making echelons in the government and the auto parts manufacturing industry. With a registered membership base of over 278 "tier one" parts manufacturers out of over 1200 industries, PAAPAM has under its wings part makers of Cars, Motorcycles, Tractors, Trucks and Buses, who represent multinational companies of repute, including Toyota, Honda, Suzuki, Hino, Nissan, Hyundai,etc. Investments in place in the industry now exceed $ 1.5 billion.