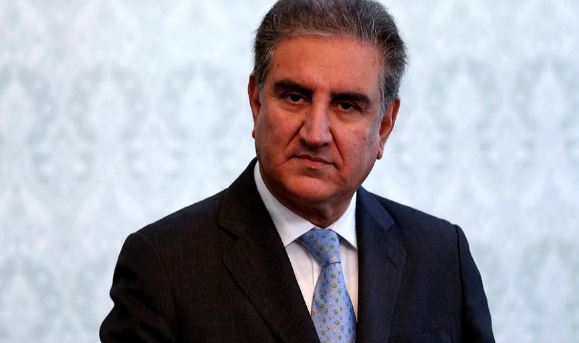 Foreign Minister Shah Mahmood Qureshi says Pakistan desires friendly relations with all its neighbors including India. But as the Prime Minister has said, the onus is on India to take necessary steps to create an environment conducive for dialogue
Ansar M Bhatti
ISLAMABAD: Foreign Minister Shah Mahmood Qureshi has said Pakistan has proactively and consistently advanced its diplomatic objectives on a range of diplomatic fronts, both bilaterally and multilaterally.
He expressed these views while addressing a news conference on Monday.
He further said, we have consolidated friendships and further strenghtened bilateral relations with major powers and key partners across all regions. Led by the Prime Minister, Pakistan has continued to be a leading voice at multilateral forums with strong advocacy on issues of sustainable and equitable development, climate change, debt relief, corruption & illicit financial flows, and Islamopobia. And we are pressing ahead on the clear pathway provided by the policy shift with increased focus on geo-economics, leveraging our geo-political significance.
The Foreign Minister further said, we have successfully and effectively put forward our perspective and narrative on major foreign policy issues including Jammu and Kashmir dispute and the situation in Afghanistan.
2021 has also been an exciting year of reform and evolution for us at the Ministry of Foreign Affairs where the strategic reform planning under Vision FO in 2020, became a reality in 2021.
To this end, we launched a robust Economic Diplomacy agenda, Public Diplomacy Initiative, engaged in large scale digital reform and leveraged Science Diplomacy the details of which I am happy to share with you here today during the course of this press conference.
In 2021, I am confident to say Pakistan truly cemented our role as a regional pivot with concrete and tangible actions to cement a reputation for responsibility, reliability and friendship.
The developments in Afghanistan – in the run-up to and post 15 August turn of events – presented a major challenge to Pakistan as the immediate neighbour that has historically suffered the most from the consequences of instability in Afghanistan.
Post 15 August, Pakistan played a pivotal role in the safe evacuation of over 80 thousand individuals across 42 nationalities, consisting of diplomats, International NGO workers, the media and many, many others. Our officers worked day and night, to make this happen. This is what a responsible nation does. We played our part. Prime Minister Imran Khan has pledged Rs5 Billion aid to Afghanistan, the first consignments of which have already started.
Pakistan has consistently advocated that there is no military solution to the situation in Afghanistan and no alternative other than a negotiated political settlement.
He said, the high point of these activities was the Extraordinary Session of the OIC Council of Foreign Ministers hosted by Pakistan in Islamabad on 19 December to focus on the humanitarian situation in Afghanistan.
Attended by over 70 delegations, including 30 at the Ministerial/Deputy Ministerial level, and representations from various regional and international organizations, and international partners, it provided a wider platform to address the humanitarian and economic challenges confronting the people of Afghanistan. The meet led to a substantive, action-oriented outcome that included:
1. establishment of a Humanitarian Trust Fund under the Islamic Development Bank
2. Launching of a Food Security Program
3. Appointment of a Special Envoy of the OIC Secretary-General
Talking about Pakistan and Iran relations the minister said, Pak-Iran relations were marked by regular interactions at the leadership level rooted in common faith and shared values. President Arif Alvi and Prime Minister Imran Khan met President Raisi on the sidelines of the ECO Summit in Ashgabat and the SCO Summit in Dushanbe respectively. I had the pleasureof visiting Iran thrice over the course of this year. Bilateral Political Consultations at the Foreign Secretary level were also held in Islamabad.
Historical and cordial ties with Turkey saw continuing upward trajectory with the exchange of high-level visits and frequent telephonic consultations. President Arif Alvi visited Turkey in August 2021. I traveled to Turkey twice and the visits were reciprocated by the Turkish Foreign Minister. Islamabad-Tehran-Istanbul (ITI) Cargo Train was launched on 21stDecember.
About ties with the Central Asian states Minister Qureshi said, in line with our 'Vision Central Asia', Pakistan pursued active diplomatic outreach to the Central Asian Republics (CARs). During the year, the President of Tajikistan visited Pakistan, President Alvi visited Turkmenistan for the 15th Economic Cooperation Organization (ECO) Summit and Prime Minister Imran Khan undertook visits of Tajikistan and Uzbekistan. The Prime Minister also virtually participated in the 14th ECO Summit and led the Pakistan delegation to the Shanghai Cooperation Organization (SCO) Summit. Virtual Summit between Prime Minister Imran Khan and President of Uzbekistan Shavkat Mirziyoyev was also held during the year.
Engagement with East Asian partners continued under Vision East Asia policy, with a round table between the Foreign Secretary and the resident ASEAN Ambassadors. Pakistan also held various political dialogues with Korea, Japan, Thailand and Australia and New Zealand, he added.
Sustained interaction continued with the European partners. I visited Germany, the UK and Belgium. I also co-chaired the 6th Round of Pakistan-EU Strategic Dialogue in Brussels which adopted a comprehensive Joint Communiqué. There were incoming Foreign Ministerial visits from Hungary, Germany, the Netherlands, Italy, Spain, the UK, and Denmark.
Bilateral Political Consultations/Dialogue were held with Norway, EU, Switzerland, Italy, besides the inauguration of Hungary-Pakistan Trade and Economic Window (HPTEW) and the first Hungary-Pakistan Business Forum during the year as i mentioned earlier.
With the Russian Federation, there was growing warmth and strengthening of relations. Besides telephonic conversations between the leaders, Foreign Minister Sergey Lavrov visited Pakistan in April. We also met in Dushanbe in September, the minister said.
He said, Pakistan remains committed to the longstanding relationship with the United States and looks forward to expanding it as a broad-based mutually beneficial partnership. To this end, I held bilateral talks with Secretary Blinken in New York. Energy and Climate Change Dialogues were initiated in September. We also saw the resumption of U.S. Congressional visits to Pakistan, as well as the visit of a bipartisan Senate delegation in December.
Pakistan's exports to the United States rose by 39 percent to cross the $5 billion mark for the first time. As a result of the Government's efforts, Pakistan was included in Amazon's Seller's List. The United States supported Pakistan's Covid-19 response through the provision of 27.6 million doses of coronavirus vaccines. We also maintained close engagement on Afghanistan.
On Africa, he said, in pursuance of the Prime Minister's directive and the 'Engage Africa Policy', there were a series of substantive and unprecedented initiatives during the year. Of the five new Missions to be established, Kigali became operational in March. Pakistan hosted virtual celebrations of Africa Day with 27 African nations, and celebrated 'Pak-Africa Friendship Day' in 15 African Capitals. Food assistance, flood relief and scholarships were provided to partners. We signed 12 MoUs on BPC with Various African countries and 1 MoU on Visa Abolition with Senegal.
'Pakistan deeply values its ties with Bangladesh and looks forward to fortifying the existing bonds,buildingnew ones andworking together for a better future for our peoples and the two countries. During the year, Prime Minister Imran Khan extended an invitation to Prime Minister Sheikh Hasina to visit Pakistan, who while accepting the invitation has also invited Prime Minister Imran Khan to visit Bangladesh'.
Prime Minister Imran Khan's visit to Sri Lanka in February provided fresh impetus to existing bilateral relations, with renewed leadership level interactions.Organization of Trade and Investment Conference, a Sports Diplomacy event, signing of various MOUs on trade and investment, science and technology, tourism, and cultural exchanges, extension of US$ 50 million Defence Credit Line facility, PKR 52 million sports assistance, establishment of Asian Civilization and Culture Centre, and 100 MBBS/BDS scholarships for Sri Lankan students were also announced during the visit.
Talking about Pakistan, India ties he said, unfortunately, the prospects of durable peace and stability in our region, and the great potential for economic development and regional cooperation have been held hostage by the hegemonic and hostile behavior of India, whose BJP-RSS Hindutva inspired leadership has adopted a particularly irresponsible and politically motivated anti-Pakistan posture, and a patently anti-Muslim approach at home.
Pakistan desires friendly relations with all its neighbors including India. But as the Prime Minister has said, the onus is on India to take necessary steps to create an environment conducive for dialogue. Resolution of Jammu and Kashmir dispute is a prerequisite for durable peace and stability in South Asia, he added.
Pakistan hosted devotees from India and all across the world for the 552nd birthday celebrations of Baba Guru Nanak from 17-26 November. These included pilgrims from across the Kartarpur Corridor after the last minute decision of Government of India to open the Corridor following a 20-month long closure from its side. The corridor has been opened from Pakistan side since 29 June 2020 after a temporary closure on 16 March 2020 due to the COVID-19 pandemic.