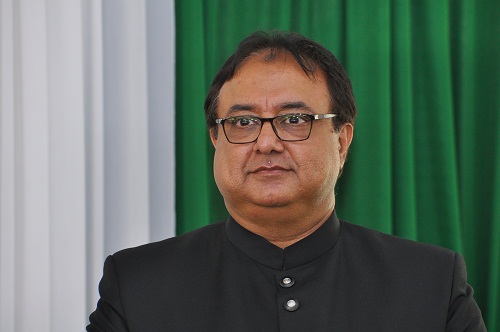 Ottawa, 03 jan 2021 : Pakistan High Commissioner in Canada Raza Bashir Tarar has said that Pakistan and Canada enjoy good bilateral relations which will be further strengthened as the volume of trade and commerce between both the countries grows in coming years.

Talking to a local Canadian television, Raza Bashir Tarar said the private sector was playing a leading role in driving the trade and investment ties between both the countries and the ease in the travel restrictions likely after the COVID-19 pandemic was over, was likely to give a further boost to the bilateral trade and commerce.

He said the Pakistan High Commission had recently approached various premiers in Canada for enhancement of trade and the response had been quite positive so far. He said Pakistan was open for business and investment and any investment in Pakistan was fully secure. He said the Canadian businessmen could benefit from Pakistan's geostrategic position and use it as a hub for the manufacturing of their products to be further sent to Central Asia and other parts in the region.
To a question, Raza Bashir Tarar urged the Pakistani community living in Canada and elsewhere in the world to rise above their group affinities and political loyalties to forge a strong sense of unity among them to be a strong player in the public and political life.
He also advised the Pakistani community to reach out to and help each other as together they could overcome unusual challenges such as those posed by the COVID-19. He lauded the Canadian government for putting up a strong response in the wake of COVID-19 to help businesses to stay afloat despite closures and lockdowns.

To another question, the High Commissioner noted that Pakistan was not a pushover for any one and it enjoyed a special status in the comity of nations which had been further enhanced by a leading role Pakistan had played in the successful resolution of various regional and international issues since its inception.

He advised the fellow countrymen to shun their despondence and negativity built around the negative coverage Pakistan sometimes received in the international press but such situations had been faced by other countries as well, and a confident approach backed by a strong association with the historical and cultural moorings of the country, could help the Pakistanis to forge ahead and play a constructive role in whatever situations and conditions they found themselves at different places in the world.

During the interview, the High Commissioner also reflected on the role of civil servants in the development of nation building and the changing nature of public policy and diplomacy and the challenges it had spawned in today's world.