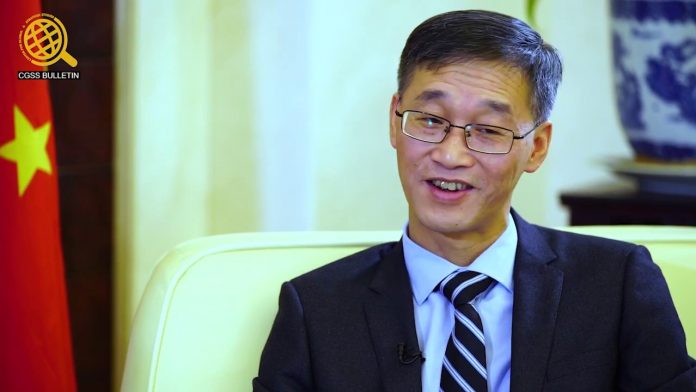 China was deeply touched by the firm support it received from Pakistan in its effort to curb the epidemic. President Arif Alvi and Prime Minister Imran Khan sent letters of solidarity to President Xi Jinping and Premier Li Keqiang respectively
2 col
BEIJING, May 21 (DNA):Chinese Ambassador to Pakistan Yao Jing said on Thursday that China and Pakistan were true friends and brother sharing weal and woe and the cooperation between the two countries in the fight against COVID-19 was a model of international cooperation.
"China and Pakistan are true friends and brothers sharing weal and woe. The cooperation between China and Pakistan in the fight against COVID-19 is a model of international cooperation. Our all-weather strategic and cooperative partnership is consolidated in addressing this common challenge."
Yao Jing made these remarks in an exclusive interview with China Economic Net, a leading economic news portal in China, during which he spoke in length on issues of China-Pakistan mutual support during the COVID-19 pandemic, progress on China-Pakistan Economic Corridor (CPEC), achievements in business and trade cooperation, and joint fight against the locust swarms etc.
He remarked that China was deeply touched by the firm support it received from Pakistan in its effort to curb the epidemic. President Arif Alvi and Prime Minister Imran Khan sent letters of solidarity to President Xi Jinping and Premier Li Keqiang respectively.
President Arif Alvi paid a special visit to China in March this year. Prime Minister Imran Khan made a phone call to President Xi Jinping to express his support for China. Foreign Minister Qureshi held two telephone conversations with State Councilor and Foreign Minister Wang Yi.
The National Assembly and the Senate of Pakistan respectively passed resolutions to support China's fight against COVID-19. Pakistan had tried its best to mobilize anti-epidemic materials nationwide to support China.
Many Pakistani people, including Pakistani students studying in China, expressed their support in various ways, reflecting the rock-solid friendship between China and Pakistan.
In return, after COVID-19 broke out in Pakistan, China rushed for assistance. The Chinese central and local governments, the military, enterprises, the Red Cross Society of China, and civil society continued to provide Pakistan with urgently needed anti-epidemic materials, including large quantities of testing kits, masks, ventilators, PPEs, medicines and cash to assist Pakistan in establishing a new isolation hospital.
China has also held video conferences with Pakistan and sent medical teams to Pakistan for experience sharing and disease prevention and control.