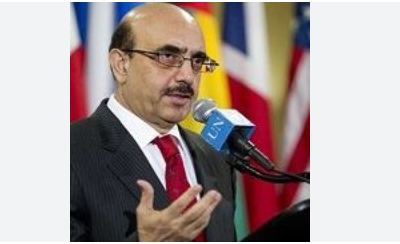 Pak-US relations a common good for the two countries, regional stability & international peace and security: Masood Khan
Political stability, economic viability and integration into new technological revolution core priorities of Pakistan: Ambassador
Connecticut: Sept 15: /DNA/ – "Pakistan-US relationship is a common good for the two countries, regional stability and international peace and security," said Pakistan's Ambassador to the United States. "We would continue to invest in this relationship," he said. "Despite all ups and down in the history of the relationship, we have a very strong partnership," he added. Ambassador Masood Khan made these remarks at Connecticut World Affairs Council during his two-day visit to the state of Connecticut.
The event was well attended by audience with diverse background including intellectuals, members of think-tank community, entrepreneurs, doctors, engineers, professionals, business leaders and students. Masood Khan said that Pak-US relationship has a bright future and both the sides were working cohesively to make this relationship work.
"We will take it to a higher stature," he resolved. The Ambassador said that the two sides would continue to concentrate on security dimensions of their relationship including counter-terrorism, stabilization of situation in Afghanistan, weaning the people of the region away from violent extremism and would continue to make efforts for promoting peace and security. "At the same time," he said, "both the states are working to upgrade the relationship in the areas of clean and green energy, green technologies, climate resilience, health, education, and trade and investment.
"Trade between the two countries is good but it should be better. We should not sit on our laurels. That is why it is important to focus on these non-security issues," he added. Masood Khan said that Pakistani-American community was serving as a catalyst and a strong connective tissue between Pakistan and the United States. He said that Pakistani diaspora, estimated to be nearly one million, comprised doctors, engineers, IT entrepreneurs, professionals and successful business leaders. "Pakistani-American community has created a niche for them in the United States in political and professional circles," he observed. He said that it was his second visit to Connecticut, the first being two decades ago as a Counsellor.
He noted the impressive GDP of the state with small population and a dynamic leadership. Pointing out low figures of bilateral trade, the Ambassador said that, "trade volume between Pakistan and Connecticut is very small. We need to upgrade this relationship in trade and investment," he emphasized. "It is important to take US investors from Connecticut to Pakistan. Connecticut has cutting edge technologies. The leadership of Connecticut has assured that they would connect us to the relevant departments," he said. "In addition to the government departments, we would like to work directly with the private sector," he added. Masood Khan said that the leading Pakistani-American professionals, community leaders and anchors could help in building a new phase of relationship between Connecticut and Pakistan.
Talking about Pakistan's national priorities in wake of changing international landscape, the Ambassador recounted political stability, economic viability and being part of a new technological revolution as the foremost priorities of the country. "Political stability is imperative for putting Pakistan on-track for higher level of development," he said. "Once we have reached that stage of viability, we must take off because Pakistan has very strong macroeconomic fundamentals for becoming one of the largest and one of the best economies in the world," he added. He predicted that digitization revolution would transform concepts about economies and polities.
"Another objective which was not just for Pakistan but for the entire world, was that we should try to build harmony amongst nations and within nations," he said. Noting increased bandwidth for Pakistan in Washington DC during past one year, he said the two countries needed to work on perception management. "Perceptions are important to develop relations," he said. On Pakistan-China relations, the Ambassador said that "our relationship with China is not and cannot be at the expense of our relationship with the United States."
"Pakistan can also facilitate communication between Beijing and Washington, if required. We want to be very constructive," he added. On US relations with India and the Indo-Pacific strategy, the Ambassador said that Pakistan advocates restoration of strategic equilibrium in South Asia for sustainable peace and security of the region.