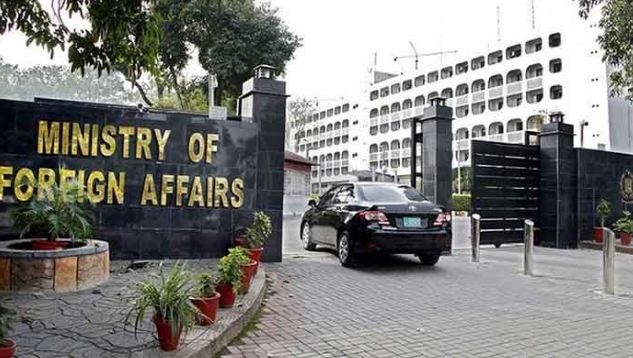 Pakistan has decided to not participate in the second Summit for Democracy and has chosen to engage with the United States and the co-hosts bilaterally, the Foreign Office said Tuesday.
World leaders will gather virtually this week for the US-organised summit, an event critics say illustrates the halting progress the Biden administration has made in advancing human rights and democracy as a focus of its foreign policy.
The US had extended an invitation to Pakistan to attend the two-day virtual summit, starting from Tuesday (today).
"The summit process is now at an advanced stage and therefore, Pakistan would engage bilaterally with the US and co-hosts of the summit to promote and strengthen democratic principles and values and work towards advancing human rights and the fight against corruption," the FO said in its statement.
Starting Wednesday, the event involves 120 countries, civil society groups and technology companies and will include strategically important nations where rights groups have expressed concerns about the state of democracy, such as India, Poland and Israel.
Expressing gratitude to the US for inviting Pakistan, the Foreign Office said: "We are thankful to the United States and the co-host countries for inviting Pakistan to attend the Second Summit for Democracy being held on 29-30 March 2023."
The FO also said: "Pakistan values its friendship with the United States and this relationship — under the Biden administration — has widened and expanded substantially".
"We remain committed to further solidifying this relationship for peace, stability, and prosperity in the region," added the statement issued.
Pakistan has not been part of the summit process that commenced in 2021 and required countries to make certain national commitments, said the FO.
The FO further said that the people of Pakistan are deeply committed to democratic values and generations of Pakistanis time after time have upheld their faith in democracy, human rights and fundamental freedoms.
"This month, the nation is celebrating the 50th anniversary of the 1973 Constitution that is the fountain of a democratic polity in Pakistan," it highlighted.
Conceived initially as an in-person gathering, the first summit was held virtually due to COVID-19. The second summit was delayed by several months and will now also be mostly online.
The virtual format adds to a sense that the summit has been de-prioritised, making it harder for participants to push bold reforms, said one civil society activist, who spoke on condition of anonymity because they are involved in organising the summit.
This year's summit will be co-hosted by the United States, Costa Rica, Zambia, the Netherlands and South Korea, an arrangement that US officials say will encourage the countries to be more involved in the process.