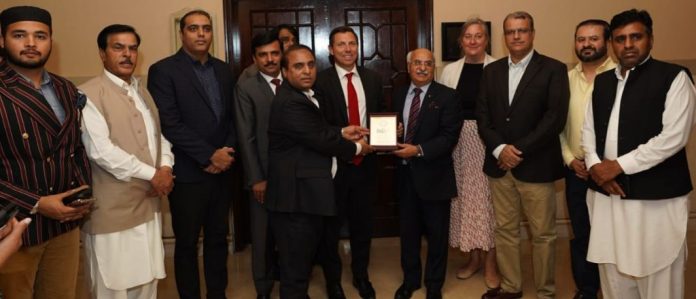 With the support of the private sector, trade and tourism between the two countries can be further increased, said Khursheed Barlas
ISLAMABAD, MAY 6 /DNA/ – Chairman of Pakistan Association of Exhibition Industry Khurshid Barlas, the delegation including Nasir Shah of Shah Consultant, Faad Waheed, Amin-u- Rehman, Shamreez Iqbal, Fahad Barlas, Mohammad Fayyaz Awan of J7 Icon, along with CEO Express Group Ijaz ul Haq met Patrick Brown Mayor Brampton Canada at a local hotel.
In the meeting, Patrick Brown discussed the overall global situation, bilateral relations and promoting cooperation in various fields including trade, investment and tourism. On this occasion, Patrick Brown highlighted the deep friendly relations between Pakistan and Canada.
That the two countries have very cordial relations which need to be further promoted in the areas of investment and trade. Chairman Khurshid Barlas said that there are vast investment opportunities for Canadian investors in Pakistan.
This can be further increased between the two countries with the cooperation of the private sector. In this regard, export of textiles, leather goods, sports products, chemicals, carpets and medical equipment can also be benefitted.
During the conversation, Patrick Brown also invited Chairman Pakistan Association of Exhibition Industry Chairman Khurshid Barlas to visit Canada for the promotion of bilateral trade.